Thank you for your interest in fundraising for DMWS, we are delighted to have you on board. As a small charity, all of our fundraisers are very special to us so you can be assured that we will be here to support you every step of the way.
If you need any advice, remember that help is always just a phone call away. If you want to talk anything through, you can ring the team on 01264 774000 or contact us.
On this page you will find information on:
---
Fundraising can come in many different ways, meet some of our supporters:
London Marathon Runner, Stuart Craig: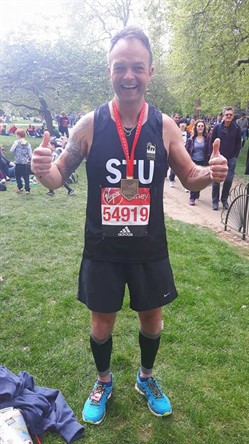 "My brother (Russ Craig) has recently undergone liver transplant surgery at the Queen Elizabeth hospital In Birmingham. Throughout this difficult time the support of Fisher House and DMWS Welfare Officers has been completely invaluable to me and my family. I wanted to give something back and decided to run the London Marathon to raise funds to ensure this incredible service is available for years to come." said Stuart.
Russ Craig, 48, served with The Royal Corps of Signals for 27 years. Only a few years after he left the Army he found himself at the Queen Elizabeth Hospital in Birmingham, in need of a liver transplant. DMWS supported the Craig family through this difficult time. Our Welfare Officers arranged accommodation for his family at Fisher House (a 'home away from home' for military patients and their families) to ensure his loved ones could remain close while Russ received major medical treatment at the QE. Russ's wife Fiona said: "The Welfare Officers were great. Not only did they help with arranging accommodation, more importantly they visited us every day, were there to listen, offer advice and supported the whole family through a very rocky road."
Our thanks goes out to Stuart who trained very hard to run the London Marathon and everyone who sponsored him.
Pantomime in SHAPE: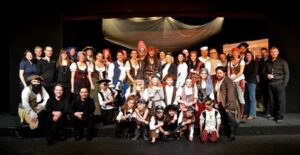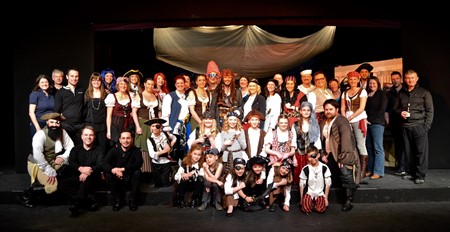 The British Community in SHAPE (Supreme Headquarters Allied Powers Europe) based in Brussels, Belgium have brought the world of traditional Pantomime to this truly international audience.
According to Lt Col Gary Brooks "Panto, an eccentric and typically British tradition – as much as fish and chips, strongly brewed tea and (love it or hate it), Marmite."
Pirate-Pantomonium hit SHAPE Theatre in January 2017, all in the name of charity! Amongst other charities, the Panto Team decided to raise funds for DMWS, due to the impact we make on the military community. Our thanks goes to the cast who have worked extremely hard to bring some excellent entertainment and raise money for those in need.
Author KJ Simmill: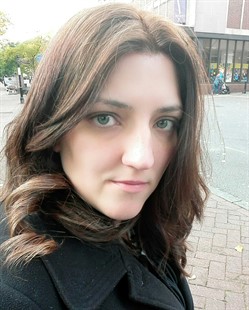 Author of the fantasy genre working The Forgotten Legacies series has been supporting DMWS for several years. In addition to her own books, she participates in books for charity, an opportunity she says, she "was thrilled to accept."
She says: "It is my aim for each one of my titles to donate a percentage of author royalties to a different charity and it my pleasure to announce that 10% of the royalties from the second book in The Forgotten Legacies Series, The Severaine, will be going to the Defence Medical Welfare Serivce (DMWS)."
The St John and Red Cross Defence Medical Welfare Service (DMWS) who provide practical and emotional support to military personnel, their families and other entitled civilians when they are in hospital, rehabilitation or recovery centres and support patients from all three services, wherever they serve.
To support DMWS, KJ Simmill has set up her own donation page.
---
Fundraising ideas
Get involved…
Whatever it is that gets you going, now's the time to cross that dream off of your bucket list. If you want some inspiration explore our charity challenges and find the right venture for you!
Charity challenge ideas
You organise the event and we will support you – start your fundraising now!
Here are some ideas to get you started: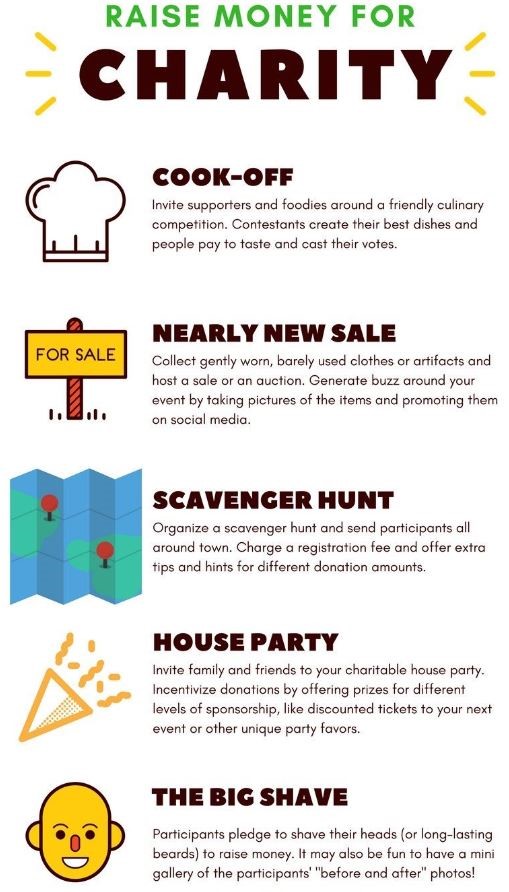 ---
Toolkit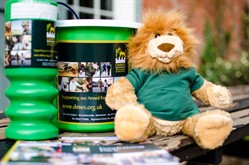 We want raising money for DMWS to be as simple, straight forward and most of all fun!
We can set you up with your own simple fundraising webpage linked to our own site VirginMoneyGiving. From experience, we know that personalising your fundraising page can have a huge impact on your sponsorship total as it makes people feel closer and more connected to your cause.
You can download a sponsorship form
We can supply you with collection buckets
---
Boost your fundraising
Promote, promote, promote!
Think about the different people you know and create a list of potential supporters. This might include:
Family and friends
Neighbours
Fellow members of clubs and community groups
Local pubs
Employers and workmates. (some employers will match whatever you raise so it's always worth asking!)
Shouting about your fundraising activity on social media, in your local paper, radio station or even your local TV broadcaster is a must if you're serious about bringing in the cash. If you need any pointers give us a shout and we will be more than happy to advise.
Set a target, it may sound simple, but setting yourself a sum you would feel really proud to raise is an effective way of maximising your fundraising. It can help to keep you motivated and spur you on. If you reach your target, you can always increase it to get people to dig that little bit deeper!
Gift Aid If your sponsors are UK tax payers at the time their donation was made towards your fundraising activity, DMWS may be able to claim 25% of it back from the taxman. Our sponsorship forms are made for collecting information relating to Gift Aid eligibility. For any queries, give us a call on 01264 774009.