DMWS 80th Year: SSgt Dewa to climb Mount Kilimanjaro on a treadmill in support of DMWS
As DMWS celebrate 80 years of supporting the frontline, our staff are committed to marking the occasion with a challenge. Staff are set to participate in a range of events across the UK and Cyprus as part of the 80th celebrations, made up of the Ultra Marathon and 80,000 Steps Challenge.
On Tuesday 26th Sep 2023, SSgt Dewa will attempt to summit Mount Kilimanjaro (56miles) on an elevated treadmill, to raise crucial funds for DMWS. Mount Kilimanjaro, at an elevation of 5,895m, is the highest mountain in Africa and the highest, free-standing mountain in the world.
DMWS is a charity that provides medical welfare support to the Armed Forces Community (serving, reservists and veterans) and their families going through physical or mental ill health, be it in hospital, rehabilitation or indeed, at home, through provision of practical and emotional support thus ensuring no soldier goes through the worry of illness or injury on their own.
According to the UK Armed Forces Mental Health Annual Summary and trends over time (2007 – 2022), 1 in 8 UK Armed Forces were attended to within military healthcare for mental health related reasons between 2021-2022 and 1 in 43, were seen by a specialist mental health clinician between 2021 – 2022. In addition, according to DMWS, 70 million days are lost each year to mental health illness. DMWS therefore plays a critical role as, through their intervention projects, save the NHS ¼ million pounds each year.
If you'd like to show your support for SSgt Dewa, please visit her JustGiving page to donate.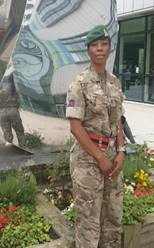 ---
Notes to Editors:
About Defence Medical Welfare Service (DMWS)
Defence Medical Welfare Service (DMWS) is an independent charity providing medical welfare to those who have, and continue to, operate on the frontline. We place trained professional welfare officers in locations throughout the UK and Cyprus to deliver much-needed additional support for those who are on the clinical pathway. DMWS is committed to providing the highest level of welfare support to those in need, promoting their physical, mental, and emotional wellbeing.
Whether it is a new or pre-existing issue, our service is for anyone undergoing treatment for a health-related issue. By providing support in a range of settings, our staff are committed to promoting and preserving the health and wellbeing of those who have dedicated their lives to serving our communities. In addition, they are committed to enabling them to reach their full potential. This can speed up discharge from hospital, help patients recover more quickly, and reduce the likelihood of readmission or the need for onward referral.
DMWS has a long and proud history of supporting the military in times of need, offering expert help and advice to those affected by health-related issues. Through its comprehensive services and outstanding dedication, DMWS has become an integral part of the armed forces community, offering invaluable support to the armed forces community at their critical time of need.
More can be found out on our website at https://dmws.org.uk
Published:
2nd August, 2023