Team DMWS did it the Great Glen Way
A DMWS Welfare Officer, Emma Gration put her best paddle forward to take in some of Scotland's most stunning scenery to complete the Great Glen Canoe Trail, raising funds for charity.
Emma Gration's challenge was to canoe the Great Glen Canoe trail which is from Fort William to Inverness (60 miles), from the 3rd – 8th May 2018. Emma, accompanied by her partner Henrik and friends Rachael and Gordon Kennedy trained hard for a number of weeks. Not even the daily rain and the Highlands' notorious midges deterred the foursome who spent four nights under canvas.
Emma said: "I work for DMWS as a welfare officer, and as it's the charity's 75th anniversary. This year my lovely friends challenged me to do something new to raise funds to help support our Scottish aged veterans further."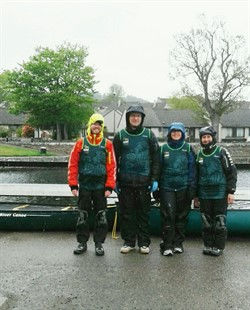 "For someone who has never been in a canoe before this was quite a challenge for me personally. Being a veteran myself, I know how valuable the support we provide is, and this really spurred me on."
A veteran herself, who served 7 years in the Army Intelligence Corps, Emma deployed to both Northern Ireland and Bosnia and saw first-hand the sacrifices our Armed Forces make. Utilising her military experience, Emma decided to take on a new role providing medical welfare support to aged veterans and their families with the Defence Medical Welfare Service (DMWS), as part of the Unforgotten Forces project partnership.
The Great Glen Canoe Trail challenge raised over £1,800 for DMWS, helping the charity to reach their target of raising £75k for 75 years of supporting our armed forces since 1943.
To help us raise more funds for our 75th anniversary challenge visit: https://www.dmws.org.uk/donate
Published:
13th May, 2018