AFCFT award DMWS funding to support needs of LGBT+ veterans in response to Review
On 19 July 2023, the Prime Minister and Defence Secretary apologised on behalf of the British state for the historic treatment of LGBT+ personnel, following the publication of the LGBT Veterans Independent Review which investigated the military's pre-2000 ban on homosexuality in the Armed Forces.
The publishing of Lord Etherton's findings, jointly commissioned by The Officer for Veterans Affairs and The Ministry of Defence, was no doubt a historic moment for the LBGT+ community, addressing historic hurt and making plans for reparations. The Review contains 49 recommendations for doing so including:
– The restoration of medals that were required to be handed back on dismissal or discharge
– The awarding of campaign and other medals that were withheld
– The clarification of pension rights
– The presentation of the Veterans Badge
Supporting LGBT+ veterans
Many individuals affected by the findings of the report will be feeling strong emotions during this time and may need some support.
As VPPP Midlands Portfolio Lead, DMWS are proud to have been awarded crucial funds from The Armed Forces Covenant Fund Trust to provide additional support to the LGBT+ veteran community during this time.
In particular, DMWS will work in partnership with Fighting with Pride to:
– Provide direct additional support through our Midlands Team and beyond in response to emerging needs
– Develop a Toolkit with briefings to raise awareness amongst other organisations in the Midlands, driving consistency of support
If you need support
If you are an LGBT+ veteran affected by the report and don't know where to turn, please get reach out for support. You can directly contact FWP who can help you with any worries or concerns.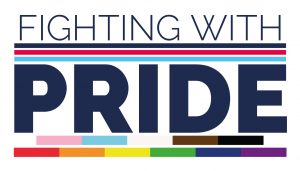 DMWS are proud to be able to support our LGBT+ veterans during this time and beyond alongside our partners.
Thank you to The Armed Forces Covenant Fund Trust for making this support possible.

Notes to Editors:
About Defence Medical Welfare Service (DMWS)
Defence Medical Welfare Service (DMWS) is an independent charity providing medical welfare to those who have, and continue to, operate on the frontline. We place trained professional welfare officers in locations throughout the UK and Cyprus to deliver much-needed additional support for those who are on the clinical pathway. DMWS is committed to providing the highest level of welfare support to those in need, promoting their physical, mental, and emotional wellbeing.
Whether it is a new or pre-existing issue, our service is for anyone undergoing treatment for a health-related issue. By providing support in a range of settings, our staff are committed to promoting and preserving the health and wellbeing of those who have dedicated their lives to serving our communities. In addition, they are committed to enabling them to reach their full potential. This can speed up discharge from hospital, help patients recover more quickly, and reduce the likelihood of readmission or the need for onward referral.
DMWS has a long and proud history of supporting the military in times of need, offering expert help and advice to those affected by health-related issues. Through its comprehensive services and outstanding dedication, DMWS has become an integral part of the armed forces community, offering invaluable support to the armed forces community at their critical time of need.
More can be found out on our website at https://dmws.org.uk
Published:
26th July, 2023