DMWS 80th Year: Celebrating 80 years of supporting the frontline
As DMWS celebrate 80 years of supporting the frontline, staff across the UK and Cyprus are committed to marking the occasion with a challenge. Staff are set to participate in a range of activities as part of the 80th celebrations. This will include:
Ultra Marathon – several DMWS staff will run 80km or more in various locations across the UK
80k Step Challenge – for those looking to get their steps in, staff will take on the challenge of 13,333 steps a day in 6 days leading up to the 9th September
There will also be local fundraising events across the country and a very special activity from our Cyprus team – stay tuned for more!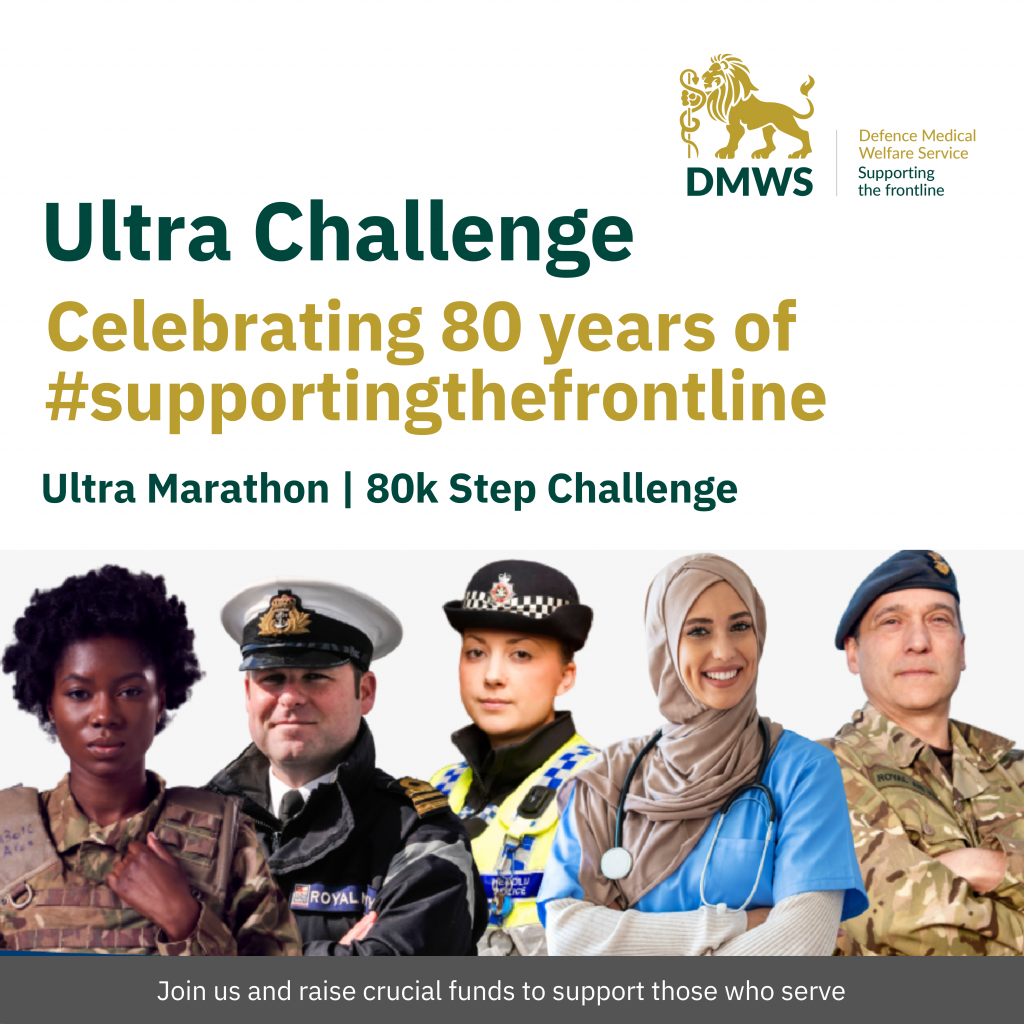 ---
If you'd like to show your support and donate to help us continue #supportingthefrontline, please visit DMWS 80th Anniversary Challenge – JustGiving
---
Notes to Editors:
About Defence Medical Welfare Service (DMWS)
Defence Medical Welfare Service (DMWS) is an independent charity providing medical welfare to those who have, and continue to, operate on the frontline. We place trained professional welfare officers in locations throughout the UK and Cyprus to deliver much-needed additional support for those who are on the clinical pathway. DMWS is committed to providing the highest level of welfare support to those in need, promoting their physical, mental, and emotional wellbeing.
Whether it is a new or pre-existing issue, our service is for anyone undergoing treatment for a health-related issue. By providing support in a range of settings, our staff are committed to promoting and preserving the health and wellbeing of those who have dedicated their lives to serving our communities. In addition, they are committed to enabling them to reach their full potential. This can speed up discharge from hospital, help patients recover more quickly, and reduce the likelihood of readmission or the need for onward referral.
DMWS has a long and proud history of supporting the military in times of need, offering expert help and advice to those affected by health-related issues. Through its comprehensive services and outstanding dedication, DMWS has become an integral part of the armed forces community, offering invaluable support to the armed forces community at their critical time of need.
More can be found out on our website at https://dmws.org.uk
Published:
30th June, 2023