Defence Medical Welfare Service (DMWS) have been selected as the Portfolio Lead for a new veterans' project in the Midlands. The two-year Veterans' Places, Pathways and People (VPPP) programme has been funded by The Armed Forces Covenant Fund Trust and will bring together eleven partners across the Midlands who will receive grant funding.
At DMWS, we are excited to be working with an amazing set of partners, all of whom provide vital services to a wide range of veterans and their support networks. As part of our Joining the Dots initiative we will be working together with our partners under a cohesive programme to enhance safe places where veterans can go and meet and pathways to support services that can help with mental health, wellbeing and friendship. The programme will also help provide training and support to staff and volunteers who work with veterans.
As the Portfolio Lead, DMWS will coordinate the partnership activity across a wide range of organisations who put veterans' wellbeing at their heart. Working together we can be more than our individual parts; helping veterans and their families navigate to the best support for them tackling issues such a social isolation, loneliness, substance abuse and complex mental health issues.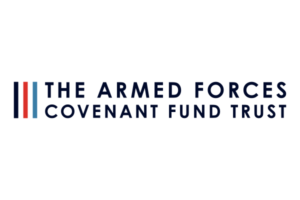 Together we can do more for those who have served their nation. We will strengthen the safe places that can offer support and direction, enhance the links and connection to make clearer pathways to the range of organisation that offer tailored assistance and invest in training the people who provide the support and services.
Counties included in Veterans' Places, Pathways & People Programme are: Lincolnshire, Nottinghamshire, Derbyshire, Leicestershire, Rutland, Northamptonshire, Warwickshire, Worcestershire, Herefordshire, Shropshire, Staffordshire and various areas throughout the West Midlands.
Our Funded Project Partners
Loughbrough Wellbeing Centre
Loughborough Wellbeing Centre has been delivering Wellbeing Cafés for adults who experience mental health problems in the Charnwood area since October 2015.
The café provides them with a safe, supportive and welcoming place to go when other support services are closed. We aim to support people's recovery and resilience to mental health issues and encourage a peer support network that will enable them to feel part of the community again.
The centre sessions offer a welcoming drop-in with fun activities which is open to adults aged 18 and over.
Fighting with Pride
Fighting with Pride support LGBT+ Veterans, serving personnel and their families, particularly those who were affected by the 'gay ban', ultimately lifted on 12th January 2000. Before then, thousands of LGBT+ service personnel were removed or forced from service and abandoned, after serving with pride. In the years ahead it is our aim to restore the military covenant and bring this community back into the military family.
Fighting with pride work with Veteran supporting organisations to build capacity for LGBT+ Veteran support, to recognise their service and help resolve the challenges they face in their lives beyond military service.
Mission Motorsport
Mission Motorsport, the forces' motorsport charity aids in the recovery and rehabilitation of those affected by military operations by providing opportunities through motorsport and the automotive industry.
The charity helps those leaving the military to find employment in the automotive industry. An Institute of the Motor Industry and LANTRA training provider, Mission Motorsport's Training Wing delivers a range of qualifications up to and including Level 3 Diploma courses and full apprenticeships enabling service leavers to bridge the gap between military service and second careers as civilians, beyond injury.
Combat Stress
For over a century Combat Stress has been helping former servicemen and women deal with issues like post-traumatic stress disorder (PTSD), anxiety and depression. Today they provide specialist treatment and support for veterans from every service and conflict, focusing on those with complex mental health issues related to their military service.
Combat Stress provides a range of community, outpatient and residential mental health services to veterans with complex mental health problems. We provide services in-person, and via phone and online.
Tri-Services & Veterans Support Centre
The centre is run for veterans by veterans and aims to create a supportive and friendly atmosphere where veterans can meet 'like-minded' people.
The centre utilises a 'hub' based approach to supporting veterans in need and has extensive links with local services and businesses such as SSAFA, Veterans UK, Walking with the Wounded and many more.
The centre is open every Tuesday, Wednesday, Thursday 10am to 4pm, and every Saturday 10am till 3pm.
The Poppy Factory
The Poppy Factory supports veterans with health conditions on their journey into employment, helping them overcome any barriers.
Four out of five of the veterans we work with report a mental health condition. Whatever their situation, and whatever they are going through, our employment team is on hand to offer one-to-one support.
Employment support is available to individuals who have served for one day or more in the Armed Forces or Reserves, and consider themselves to have any kind of physical or mental health condition.
Waterloo Uncovered
Waterloo Uncovered is a registered UK charity that combines a world-class archaeology project on the battlefield of Waterloo with a support program for veterans and the military community. Working in partnership with some of Europe's top universities, and through the unique perspective of a team comprised of archaeologists, veterans, and serving soldiers, Waterloo Uncovered aims to understand war and its impact on people — and to educate the public about it.
YSS
YSS is a local charity which enables people who face significant life challenges to feel safe, have the opportunity to thrive and to realise their potential.
YSS provide a wide variety of mainly community focused support for people across Worcestershire, Herefordshire, Shropshire, Telford & Wrekin and Warwickshire. They are often described as the 'glue' between those at risk of social isolation and the wider community.
The Warrior Programme
The Warrior Programme enables individuals to manage their emotions and to develop the resilience, focus and motivation to succeed in today's world. The programme has been developed over the last ten years to meet the demands and challenges experienced by past and present members of the armed forces and their families.
Stepway
Stepway are a registered Charity incorporated Organisation (CIO) and are here to improve your mental well-being, so you can engage in education and employment programs. Stepway promote social inclusion with drop-in centres and community projects, where you can meet like-minded people who have walked the walk!
VPPP Midlands News
On Tuesday 7th November 2023, DMWS held the Midlands Armed Forces Health Symposium, 'Meeting the Armed Forces Covenant Duty – Veterans' Mental Health' in Birmingham. Funded by the Armed Forces Covenant Fund Trust (AFCFT), the event was a collaboration under the AFCFT's Veterans' Places, Pathways and People programme. The programme's goal is to bring together […] Read more

---

Defence Medical Welfare Service (DMWS) have been announced as the Portfolio Lead for a new veterans' project in the Midlands. The two-year Veterans' Places, Pathways and People (VPPP) programme has been funded by The Armed Forces Covenant Fund Trust and will bring together eleven partners across the Midlands who will receive grant funding. At DMWS, […] Read more

---