Army veteran's daughter Sam finds the courage to embrace life again after loss of her father
Sam can't believe how her life has changed and says she hasn't laughed so much in years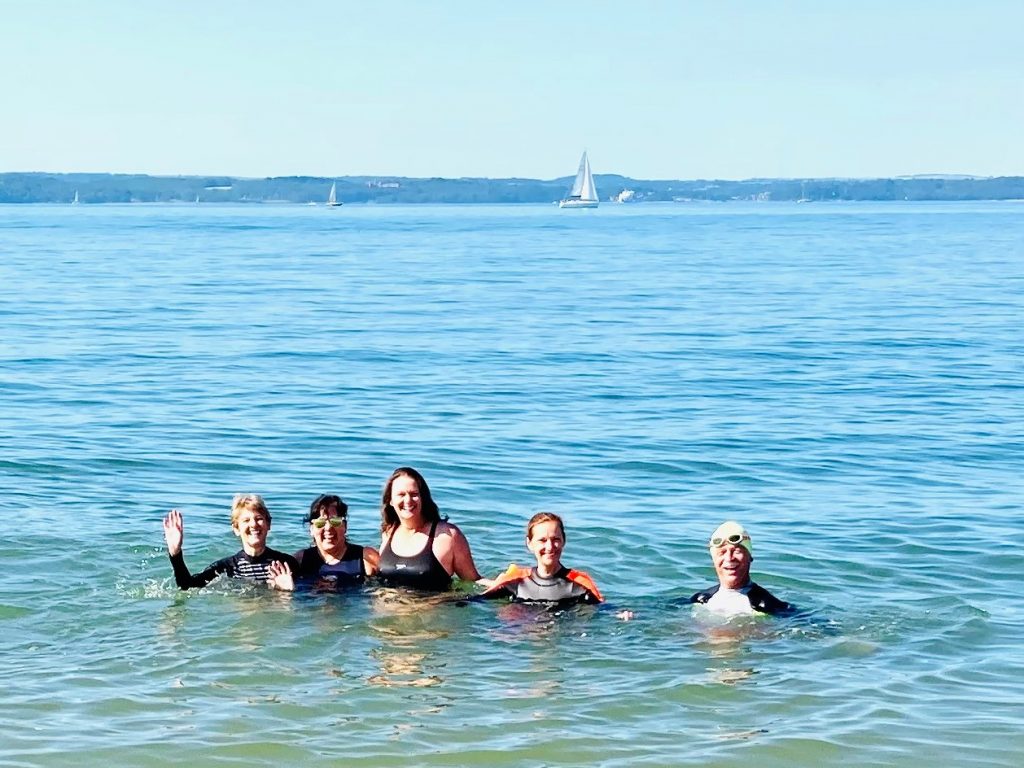 Photo of Sam (middle) and her new sea swimming group friends
I cannot say enough good things about the support I received from Jan at DMWS during my dad's illness and eventual passing. Thank you for always being there on the end of the line and giving me the courage to embrace life once again.

Sam, veteran family member
An army veteran who served with the Dragoon Guards was diagnosed with lung cancer and given 6 – 12 months to live with no further treatment to be given. The veteran required palliative care and with notice given to quit by landlord he needed help as soon as possible. The veteran's only family were his daughter Sam who was living in South Africa. She travelled to UK to look after her Dad but living on a houseboat she could not have her dad to stay. DMWS stepped in and referred the family to Rowans Hospice for palliative care information and support for Sam, as well as Age UK for veteran buddy support for Dad.
Isolated from her family and unable to bring her son and daughter over from SA due to Covid, Sam was very distressed and begun to have panic attacks and struggle with mental health. The responsibiliity of care was a lot and on her own it took its toll. Sam had had to deal with the death of her 5 year old son who had been killed in a road traffic accident a few years before and was dealing with PTSD as a result.
Sam had no income and had taken work as a carer because she did not believe that her professional accountancy experience in SA would enable her to get a good job in the UK. With everything going on she had lost confidence in herself. DMWS welfare officer Jan believe that her skills were transferable and she would just be using a different accountancy system. With a bit more investigation this was found to be true and with support from Jan and Indeed Job website, Sam secured herself a role doing a job that she loved and was trained to do. Sam was now able to rent a flat and her Dad moved in with her. She cared for him as long as she could which is what she wanted to do. Dad was readmitted to hospital in the final stages of his illness and then into a nursing home for residential pallatitiave care - a decision made by both Sam and her Dad. Sam's Dad passed away several months later and DMWS welfare officer Jan continued to help the family by supporting them during the funeral arrangements making it a celebration of life. This was not easy to do during Covid and with family in South Africa.
Sam's story does not end here. A month later, she met welfare officer Jan for a coffee at the local Health Club. In Sam's words - we talked and laughed at length and by the end of the coffee Sam had signed up to the Health Club! Jan invited Sam to join in the local sea swimming club and now she has become a regular at sea swimming and has been embraced by the group. Sam says she says she's becoming addicted to it and has made friends including couple who pick her up on the way in and everyone stops for a coffee and a natter afterwards. We wish Sam and her family the very best for the future.
Key Outcomes:
Obtained Support from 3rd sector reducing need for NHS services
Reduced likelihood of needing NHS Mental Health Crisis Team
Enabled independent living
Reduced social isolation
Enabled access to military organisations and members groups
Enabled support from buddy and companion services
Reduced time taken by GP for social care and wellbeing issues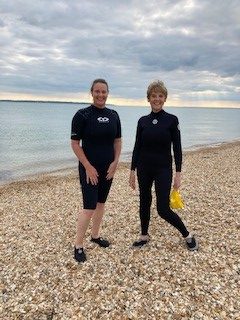 (L-R) Sam with DMWS welfare officer Jan)