Police Officer Kevin, Road Traffic Collision
Police Constable returns to work less than a year after losing his leg in a road traffic collision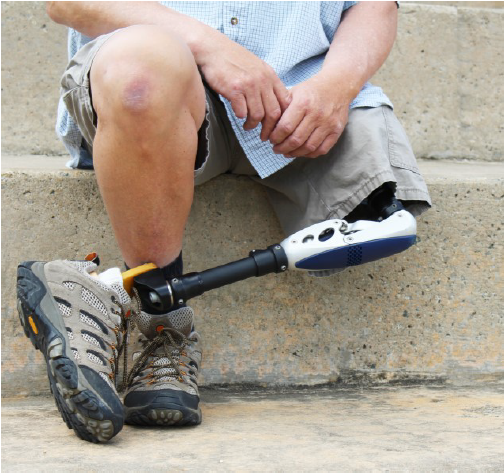 Police Constable Kevin after successful prosthetic limb surgery.
DMWS Welfare Officers visited me very early on in my recovery, and remained a constant source of support throughout.
I'm grateful that the DMWS was made available to me as a police officer, and I would commend the service to my colleagues.

Police Constable Kevin
Hampshire Police Constable Kevin was on his way to work when he was involved in a 'Road Traffic collision' resulting in a loss of limb. DMWS visited Kevin early on during his recovery in hospital, offering him and his family practical and emotional support to ensure the best possible outcomes following his life-changing injury.
After a long hospital stay, Kevin was keen to be discharged and start his road to recovery back in his own home. However, a great deal of organisation was required before he could return home. DMWS helped Kevin and his family with practical advice such as referring him to other support agencies and assisted with the time-consuming task of filling in forms and applications.
DMWS provided emotional support to the whole family. Kevin's wife initially found the severity of his life-changing injuries upsetting and valued the extra support at this time. DMWS managed to ensure that adaptations were carried out quickly and Kevin was discharged from the hospital much earlier than expected.
Less than half a year after the accident Kevin has already returned to work.
Key Outcomes:
Improvement in SU's mental state
Support to immediate family
Improvement of SU's independence and overall wellbeing
Practical help on house adaptation meant the officer was able to get home sooner than anticipated, which accelerated his recovery and led to an earlier return to work.