DMWS are proud to have won awards in recognition of our professional welfare support to those who serve.
Our mission is to offer practical and emotional support to enable patients to return to health, work and
home at the earliest opportunity. Making a difference to the people we support is a reward in itself.
However, being recognised and rewarded by external organisations for our work is a real honour.
NUH Awards 2018
| | |
| --- | --- |
| | DMWS is extremely proud to have received the NUHonours Awards 2018 in the "Team of the Year" category. |
DMWS receives MoD's Employer Recognition Award "Gold"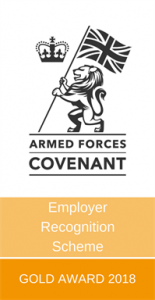 The Defence Employer Recognition Scheme (ERS) is a Ministry of Defence run scheme which encourages employers to support the work of the Ministry of Defence, and inspire others to do the same. Our charity has successfully held the "Silver" Award since the introduction of the Scheme in 2014. We are extremely proud that in our 75th anniversary year we are also honoured with the Gold Award, the highest award of the scheme, recognising organisations who actively support the Armed Forces community in their workplace.
Paul Gaffney, the Chief Executive Officer of DMWS said: "It was fantastic news to hear that the Defence Medical Welfare Service has won the Gold Award, under the Employers Recognition Scheme run by the MOD as part of the Covenant."
We have a host of company initiatives and policies in place to encourage and support Service personnel in the workforce, including granting additional leave to Reservists so that they can fulfil their training requirements. Our charity signed the Armed Forces Covenant in 2014, and has always had forces-friendly environment with its workplace.
Winner of Soldiering On Award 2018 (International Award Category)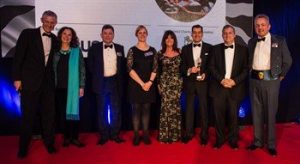 In recognition of our commitment to support the Armed Forces community in the UK and abroad, the Defence Medical Welfare Service (DMWS) has been awarded this year's Soldiering on Award in the International Award category.
Our welfare officers support injured and ill service personnel, veterans and their family members during times of physical or mental illness. Celebrating 75 years of caring for those who serve, we are extremely proud to be recognised for their work with the presentation of this top military award.
On receiving the award CEO Paul Gaffney said:"The Defence Medical Welfare Service is absolutely delighted to have been recognised for our work overseas. The timing of this Soldiering On Award in our 75th anniversary year is testament to our fantastic welfare officers who have helped the Armed Forces community at times of crisis in all major conflicts since its formation in WW2."
High Sheriff's award for Police Medical Welfare Service 2018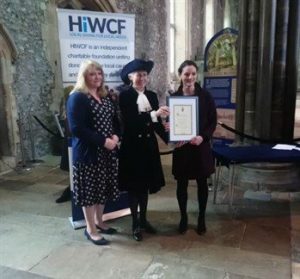 The High Sheriff of Hampshire, Mary Montagu-Scott, has honoured the members of the Police Medical Welfare Service with a High Sheriff Award in recognition of providing a unique welfare service to Hampshire Constabulary.
Since June 2016,we have been delivering the Police Medical Welfare Support for Hampshire Constabulary. This offers extra welfare support to sick, injured and assaulted officers with the aim to improve recovery time, wellbeing and resilience across the Force. Our Welfare Officers provide a confidential and impartial listening ear, practical assistance, home visits, liaising with the constabulary, and emotional support. DMWS works in partnership with existing police, welfare and charitable organisations with the aim of improving the experience for patients and their families at a time of need.
Speaking about the High Sheriff Award, Jessica Liston, Area Manager for DMWS said: "It is great to be acknowledged for the fantastic job of our welfare officers. As a former Police Officer I believe it is only right to provide support to those who put their lives in harm's way to protect our communities, when they need additional help."
DMWS Training wins MHFA Award 2017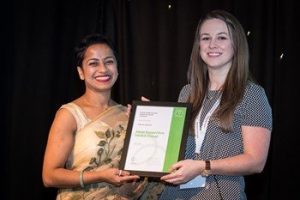 In November 2017 DMWS Training Manager, Mark Perryman, received the Mental Health First Aid (MHFA) Award as 'Most Supportive MHFA Friend'. His nomination acknowledges his work with teachers, nurses, youth workers, jockeys, LGBT leaders and the emergency services. Unfortunately he could not attend the event in person.
In his role with the Defence Medical Welfare Service (DMWS), he has expanded the training team in his efforts to make DMWS the most prolific independent deliverer of MHFA in England. Building confidence in others and inner strength, Mark is a true MHFA Ambassador in every sense. His belief is such, that he has trained every single member of our staff in MHFA (Adult). His innovative approach to supporting other charities and training volunteers and key workers in MHFA, has led to grants being awarded, to fund the continuation of this exceptional work.
Revalidation of Employer Recognition Silver Award 2017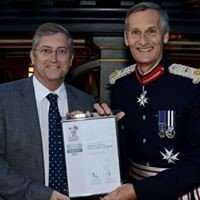 We were delighted to hear that DMWS have been re-awarded the MoD Employer Recognition Scheme Silver Award. The Scheme was launched in 2014 and acknowledges employers who have provided exceptional support to the Armed Forces community and defence by going above and beyond their covenant pledges and we are proud to be supporting those who serve. DMWS was awarded Silver for outstanding support to armed forces personnel, veterans and reservists in the same year. The awards are reviewed every 3 years and we are very happy that our Silver has been revalidated in 2017.
Our CEO Nicky Murdoch MBE said:" This is the second time we have been given the Defence Employer Recognition Scheme Silver Award which celebrates our continuous support for the employment of service personnel. In fact 71% of our current workforce is from the Armed Forces community made up of veterans, reservists and spouses, recognising the immense value they bring to their role at DMWS."
We truly enjoyed reviving our Silver Award certificate at the Ceremony on board HMS Victory in Portsmouth in September 2017.
Soldiering On Awards 2017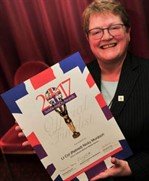 DMWS is delighted to be notified in 2016 that we had reached the finals of the Soldiering On Awards 2017. This recognition is split into two categories; 'International Award' plus an individual nomination for our CEO Nicky.
Murdoch, who was selected by the judges for the Sunday Express 'People's Choice Award'. The Soldiering On Awards provide National recognition for the outstanding achievements of those who have served their country and
individuals and groups who work together with the Armed Forces Community.
Women In Defence Awards 2016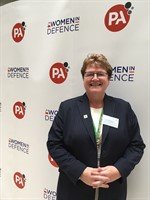 Women in Defence UK exists for a community of people who wish to promote the value of women in defence with the aim to encourage women to succeed authentically, share experience, build networks and also to encourage talent at all levels to join the defence sector.
We are very proud of Nicky Murdoch, who was shortlisted as a top ten nominee for the Awards in the "Outstanding Contribution" category from over 200 nominations across all categories. Lieutenant General Richard Nugee, Chief of Defence People, presented the inaugural Women in Defence Awards at the Honourable Artillery Company's Headquarters in October 2016.
The Sovereign's Medal of Merit by The Order of St John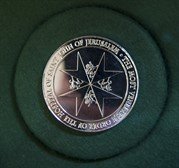 In April 2016, DMWS was presented with the Sovereign's Medal of Merit from The Order of St John. The award is given in recognition of the 'exceptional support to members of HM Forces, their dependents and others engaged by our Armed Forces through the provision of hospital welfare services in operational theatres around the world; in Germany, Cyprus and in the United Kingdom. This medal is extremely significant as it has never been awarded before.The official ceremony took place at the historic Priory Church of St John in London. Lt Gen John Stokoe CB CBE, Chairman of DMWS received the medal from Rodney Green, CBE, who was the Prior of the Order of St John at that time.
DMWS Staff Honoured for Outstanding Achievement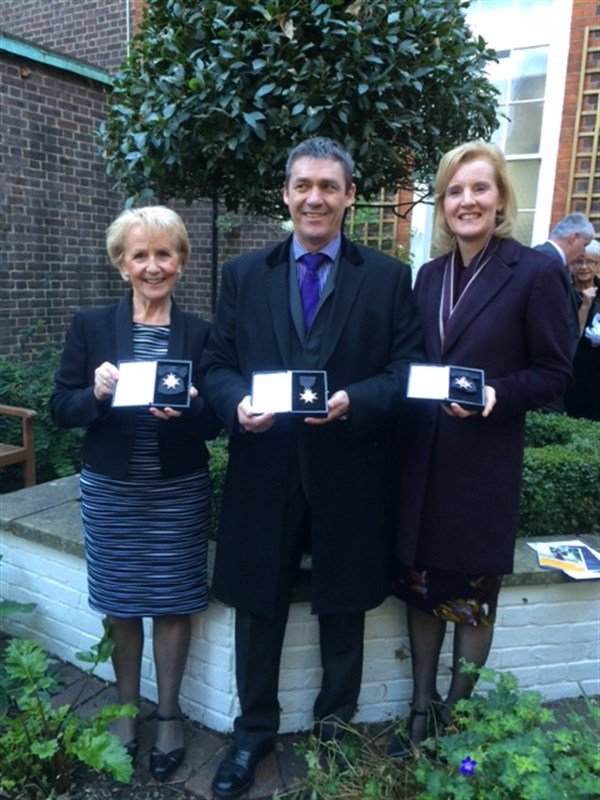 Three members of DMWS staff attended a prestigious ceremony on the 20th October 2015 to receive the Order of St John.
HM The Queen, as the Sovereign Head of the Order, honours individuals with admission to, or promotion within, the Order in recognition of their outstanding achievement, successful discharge of responsibility or notable and selfless service in furthering the objectives of the Order. It was therefore a huge honour for Trevor Edwards – Director of Operations, Amanda Marcroft – Service Delivery Manager and Jeanette Spriggs – former Welfare Officer, to receive the award.
We are extremely proud of all of our staff and are delighted when their service is recognised in this way. Our warmest congratulations and best wishes go to Trevor, Amanda and Jeanette.
Employer Recognition Silver Award 2014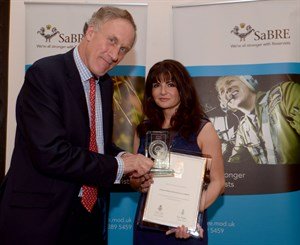 DMWS have won an Employer Recognition Silver Award for our outstanding support to the UK's Armed Forces, Regular and Reserve Forces.
On Thursday the 13th November 2014, DMWS, along with seventeen other key businesses based in the South of England, was invited by the Ministry of Defence (MOD) to Blenheim Palace to receive the award.
The awards were presented by The Minister of Reserves, Julian Brazier MP and Brigadier Andrew Hughes MBE, Commander of 11 Infantry Brigade.
The scheme was launched by the Prime Minister on the 17th July 2014 at 10 Downing Street, where nine companies were awarded the highest accolade the 'Gold Award'. The Ministry of Defence launched the new Employer Recognition Scheme, to reward and recognise UK employers for their support and commitment towards Defence. The scheme was a commitment made in the July 2013 White Paper "Reserves in the Future Force 2020".
Julian Brazier TD MP, Minister for Reserves said: "I am delighted with the positive response to the Defence's Employer Recognition Scheme, launched by the Prime Minister in July this year. Over 360 employers have already been recognised with the Silver Award via this scheme. I am very happy to join 18 of them at Blenheim Palace in recognition of the high levels of commitment demonstrated towards Defence personnel. We look forward to recognising many more employers in future."
We are proud to employ members of The Reserves as we recognise the value that their skills and experiences bring to their role at DMWS.
Military & Civilian Health Partnership Awards 2013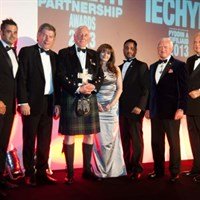 Military and Civilian Health Awards 2013 DMWSDMWS were proud to win a Military & Civilian Health Partnership award under the category Healthcare for/by Deployed Forces at the annual Military & Civilian Health Partnership Awards held in Cardiff on the 21st May 2013.
DMWS was judged the best in their field for the significant contribution it makes to the healthcare of military patients on operational deployment.
Lorraine Pink, Director of Business Development at DMWS says "We're delighted to have won our category at the Military & Civilian Health Partnership Awards. We're the only civilian welfare organisation and military charity that deploys to areas of conflict with the Armed Forces. Our Welfare Officers do an incredible job supporting injured troops in Afghanistan, often coming under fire themselves, so we were thrilled the work that they do was publically recognised".