Lee Bayley: Soldiering On Awards 2022 Finalist
DMWS Welfare Officer, Lee Bayley is one of the shortlisted finalists for the Family Values Award at the Soldiering On Awards 2022. Lee has been with our organisation since 2020 and is one of many veterans serving on our team.
Long before joining DMWS, Lee served in the Royal Corps Signals for 10 years, this is where she met her husband and where she began her family. As both a veteran and a military spouse, Lee understands first-hand the barriers to family life which is why she is a perfect fit for the Sustaining Communities Project. The project, funded by the Armed Forces Covenant Trust looks to provide support to the wider military community.
As the Families Welfare Officer for Herefordshire, Lee is responsible for bridging the gaps for both military families and veterans by educating what's available to them both behind the wire and out in the wider community. Lee has a wealth of knowledge and delivers life-changing welfare support, many of these cases are extremely complex, dealing with suicide, PTSD, substance abuse, domestic abuse, and more. A large part of Lee's role is about building trust, dismantling stigmas, and addressing ongoing issues which create barriers to family life.
Speaking on her work, Lee says: "The region I work in is unique, Herefordshire is rural area made up of five market towns, with a main hospital and then surrounding community hospitals. It's quite hard for lot of the people I come into contact to connect with the community. Part of my role is educating people on what's available to them and getting families connected to services that are designed to help them."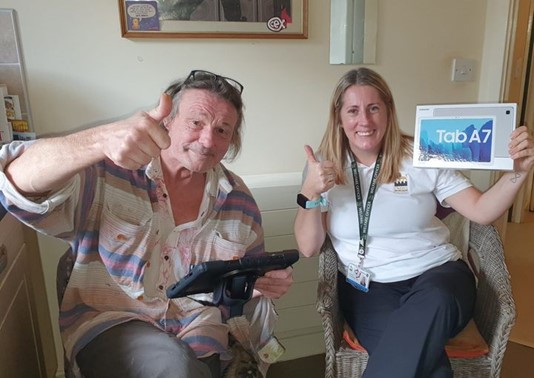 Lee works closely with several services, organisations and public bodies including GPs, social prescribers, discharge teams, drugs, and alcohol services, the RBL, SSAFA and First Light. Recently Lee worked with the Community Hub and Healthwatch Herefordshire to provide free iPads and Wi-Fi to help her service users get digitally inclusive with the aim of reducing social isolation and helping people become digitally aware.
In many cases the work Lee does is transformational and her support changes lives. "There's no limit to what we can do," explains Lee, "everyone's circumstances are different, and a large part of my role involves making links with specialist services to get people the help they deserve. Since working with DMWS, I've gotten involved with the stroke team as one of my service users hadn't left his house for over a year [following a stoke], we spent time assessing the barriers to life beyond his front door and utilised our community links to provide him with a wheelchair, this enabled him to do things many of us take for granted such as walking his dog or visiting the library."
As a Families Welfare Officer, Lee gets involved with service users at every level. "I always emphasise that our support is for all family members," Lee says, "and therefore I'm involved at all levels, whether that's engaging with children's services or care homes for the elderly. In the past year alone, I have been involved with; child protection plans, getting a father help for his severe PTSD, stopping an elderly resident from being moved from their care home due to behavioural /mental health issues to getting a serving personnel's son involved in ecotherapy. I think outside the box for each individual and always look at how can I do things differently and what welfare looks like that person."
At DMWS we are extremely proud of our staff and all their achievements, and we are thrilled to have Lee be shortlisted as a finalist in the Soldiering On Awards 2022, and to be recognised for the outstanding work she does for the Herefordshire community.
---
The St John and Red Cross Defence Medical Welfare Service (known as DMWS) is a registered charity in England and Wales (1087210) and in Scotland (SC045460)
Keep up to date with DMWS news and announcements via Social Media
Facebook @DefenceMedicalWelfareService
Published:
18th July, 2022