Scottish Veterans Minister Meets Military Veterans Project Making Positive Changes
In a visit led by the Defence Medical Welfare Service (DMWS) team, Scottish Veterans Minister Graeme Dey met with attendees of Ayrshire Veterans Breakfast Club, at the Melbourne Café, followed by a visit to the Unforgotten Forces consortium at Poppyscotland's Head Office in Kilmarnock.
Following the launch of the UK-wide Strategy 'For Our Veterans'; the Minister has been widely consulting with the veteran community. The strategy sets out the vision, principles and aims which will drive support for veterans in the future. This visit was an opportunity to hear how DMWS has helped to make sustained positive change to the armed forces community in Scotland, as part of the Unforgotten Forces programme.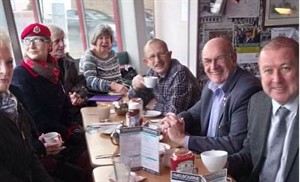 The Defence Medical Welfare Service is a key member of the project, often reaching those in need at the immediate point of crisis within NHS medical centres and hospital wards. DMWS Welfare Officers deliver a bespoke medical welfare service to veterans aged 65 and over, their families and carers in Scotland. This unique service also includes work in the community, where the Ayrshire Veterans Breakfast Club is a regular place to provide direct support and referrals to other agencies.
Robert Reid, Area Manager said: "I am a veteran myself and know first-hand that our armed forces are frequently exposed to distressing sights and experiences on deployment, and may have sustained injuries or medical conditions related to their Service."
"The ministerial visit provided an opportunity for our veterans to discuss their experiences past and present, and the impact it has had on their lives. Being able to speak to Mr Dey directly about what support is being provided Scotland-wide to assist the significant number of ex-service personnel, was a wonderful opportunity."
Mr Dey left the Ayrshire Veterans Breakfast Club, to meet with the remainder of the Unforgotten Forces consortium at the Poppyscotland offices. The meeting gave an insightful portrayal of the charitable work that is being done to help our ex-service personnel and the schemes that are making a real difference to both individual and community quality of life.
Mr Dey said: "Scotland has a long and very proud military tradition. Our Armed Forces and Veterans Community are assets to our society and I want to ensure that their service is properly acknowledged and that they are well supported and looked after.
"I am pleased to have been able to join in the Veterans Breakfast this morning and visit Poppyscotland's Welfare Centre with the Defence Medical Welfare Service to learn more about the excellent work they do to support our veterans community."
Paul Gaffney, Chief Executive Officer at DMWS, comments, "We are delighted that Mr Dey met with the team, which sent a really positive message of support to the Unforgotten Forces programme. The ministerial visit highlights Scottish Governments commitment to the needs of the armed forces and veterans community and the requirement to ensure that those who have Served their country are placed at the forefront of veterans policy thinking, development and delivery."
The Unforgotten Forces programme is funded by a grant of £4 million from the Aged Veterans Fund, to undertake a three-year programme of support for older veterans over the age of 65 and their families in Scotland.
Unforgotten Forces is a partnership between 15 leading organisations which will deliver a range of new services and enhancements in areas including advice, access to healthcare, social isolation, respite, along with creative activities and events for those in care settings.
Published:
28th January, 2019