New Referral Partner for Veterans' Gateway
DMWS is extremely proud to be Veterans' Gateway newest referral partner and to be able to do what we do best; to help those who serve and their family during their most critical time of need.

Veterans' Gateway put veterans and their families in touch with the organisations best placed to help with the information, advice and support they need – from healthcare and housing to employability, finances, personal relationships and more. This new first point of contact, which was launched in June, is the first of its kind, bringing together Military charities and other support organisations under one roof to make finding the right support easier and quicker.
Veterans' Gateway is made up of a consortium of Armed Forces charities including The Royal British Legion, SSAFA the Armed Forces charity, Poppyscotland, Combat Stress and Connect Assist working together with a group of referral partners of which DMWS is proud to be one. We are also pleased to announce that we have already successfully supported a number of referred veterans.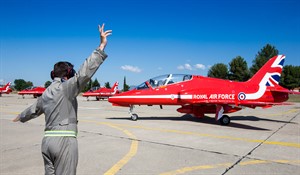 One such case is of a family with 3 generations of serving and former serving RAF personnel. Both father and son suffered a stroke on the same day, treated in hospital an hour away from home. Due to the severity of the condition and additional complications the father could not be transferred to a local hospital. The wife (and mother) in her 70s no longer drives due to diminishing eye sight and found visiting her husband and son extremely difficult. DMWS was contacted via Veterans' Gateway to support this family, given that our expertise is helping those in need when they are receiving hospital care. Our Welfare Officer sourced funding to organise return transport to ensure regular visits were made possible. In addition to helping on a practical side, DMWS also provided emotional support to the extended family to ensure they were properly supported during their difficult time.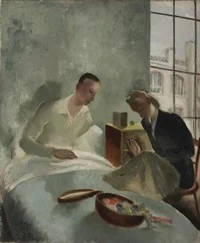 DMWS has a rich history that dates back to the First World War, providing help and support to the Armed Forces community and other frontline staff whenever they are receiving medical treatment. For over 70 years DMWS remained the only military charity and civilian welfare organisation to deploy to all major areas of conflict with the Armed Forces, working alongside medical staff in the Field Hospitals and providing additional welfare support to patients and their families. The closure of British Military hospitals and the steady increase of veterans benefitting from our medical welfare support, led to DMWS supporting the entire Armed Forces community in NHS hospitals, rehabilitation settings or at home.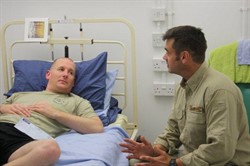 The charity provides practical and emotional support to patients and their families when their medical needs are being met but when other issues or problems, such as debt, housing, family breakdown, or substance misuse, may affect the patient's recovery. The aim is to improve mental and physical wellbeing, encourage a positive approach to treatment, and promote independence. DMWS also provides wider advantages to the NHS such as reducing patient's hospital length-of-stay, or freeing up clinical staff to concentrate on core duties.
DMWS specialist knowledge is rooted in operational experience, which means that Welfare Officers have a deep understanding of working with Armed Forces personnel and their families, as well as with veterans. They are experts in their field, drawn from a variety of backgrounds including healthcare, social work and counselling, and many are veterans of the Armed Forces as well as military spouses. They deliver a quality welfare service, often dealing with highly complex cases in pressured circumstances.
Nicky Murdoch MBE, CEO of DMWS said: "We are extremely proud to be Veterans' Gateway newest referral partner and to be able to do what we do best; to help those who serve and their family during their most critical time of need."
How does Veterans' Gateway Work?
'Veterans' Gateway' is designed to help former Servicemen and women and their families, of all ages and backgrounds navigate their new lives as civilians. From advice on housing and finance to help with health concerns, Veterans' Gateway brings together the vast range of charities and support on offer, guiding veterans directly to the help they need, when and where they need it whether they are in the UK or overseas
Make Veterans' Gateway your first port of call.
Call Veterans' Gateway around the clock on 0800 802 1212
Visit them online at veteransgateway.org.uk
Text on 81212
Get in touch via LiveChat – on the website
Submit a query using our online form – on the website
Watch Veterans' Gateway – 'We Can Help' Video:
Published:
28th November, 2017