DMWS at the Menin Gate Memorial, Ypres
DMWS Welfare Officer Ann Mckenzie tells us about her trip to Ypres to remember our service personnel in this very special centenary year.
It was a huge honour to lay a wreath on behalf of DMWS on 11 November 2014 at the Menin Gate Memorial in Ypres at the Remembrance Parade to mark the 100th Anniversary of the year World War I started.
It was during a battlefield tour in July this year that my tour guides (Jacques Ryckebosch and Genevra Charsley from Flanders Battlefield Tours) informed me that it was possible to attend the Remembrance Parade to mark the 100 year anniversary since WW1 broke out. As Jacques is a member of the Last Post Association, he offered to provide me with VIP tickets allowing me a place inside the Menin Gate. Later, during the course of our tour I asked if I could lay a wreath from my organisation as we have had an affiliation with the military since the outbreak of WW1 when the Joint Committee of St John and Red Cross were tasked to deploy personnel into military hospitals and field units. Jacques thought this would be a great idea and the plan was put in place.
The morning was dull to start with but as we walked down the street towards the Menin Gate, where over 10,000 spectators lined the entire road, the clouds broke and the sun shone through.  I was ushered onto the wreath layers side and given instructions of which way to turn, which way to hand the wreath over to and which way to walk back to my position, it seemed very confusing but before I could worry about that, a Belgian reporter and film crew came over and asked to interview me.   He asked about DMWS and how we helped military personnel now on operations.  I couldn't believe it, first I was allowed to be here at this great monument for our fallen heroes on Remembrance Day, then I was given the honour of laying a wreath for them and then to top it off I was interviewed by a national television channel!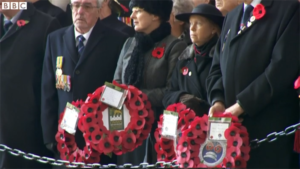 The entire service was extremely well executed, as one would imagine after all these years. It was also, naturally, very sombre especially when the Last Post was played by the Last Post Association (for the 29759 time). During the Act of Remembrance thousands of heart shaped poppy petals were dropped through the oculi above; the petals cascaded down like so many poor fallen heroes. I honestly don't think there was a dry eye in the entire parade.
DMWS are very grateful to Ann for carrying out this important act of remembrance on our behalf and are hoping to return to Ypres in 2018 to commemorate the end of World War I.
Published:
18th November, 2014