There are good weeks, there are great weeks….and then there are fantastic weeks! DMWS has enjoyed a whirlwind over the last 7 days, which definitely fits into the latter of these three categories.
Our service users, partners and service users already know that the work we do with the Armed Forces and the NHS is invaluable, offers support to patients during times of crisis and helps organisations to comply with the Armed Forces Covenant but it is always great to be able to tell key figures about it too.
On Friday 20th May, DMWS Chief Executive, Nicky Murdoch met with The Right Honourable Jeremy Hunt, MP, Secretary of State for Health to brief him on the vital role DMWS play in linking welfare support for the Armed Forces and Police Community when they are in hospital with the NHS. Mr. Hunt, whose father was Admiral Sir Nicholas Hunt, was impressed by what he heard and recognised the valuable role DMWS officers play particularly in supporting the Aged Veterans in new areas of operation in Greater Manchester and Avon and Somerset.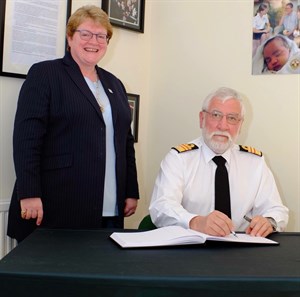 On Tuesday 24th May 2016 back at our Head Quarters in Redenham Park, it was a great pleasure to welcome the
Surgeon General, Vice Admiral Alisdair Walker for his initial brief on DMWS in his new appointment. DMWS work closely with the Defence Medical Services so it was an important opportunity for the head of the organisation to be updated on the work of DMWS and it's impact on both the Armed Forces Community and the clinical staff we work alongside.
And then it was Wednesday 25th May 2016. A day that we had all been looking forward to, fo some considerabel time. The day dawned warm and dry and despite a light covering of cloud, nothing could dampen our excitement at welcoming Her Royal Highness, The Countess of Wessex and other local VIP's, to our Redenham, Park Headquarters, where they would meet DMWS staff and service users to hear about the history of DMWS, our work with the Armed Forces Community and our plans for the future.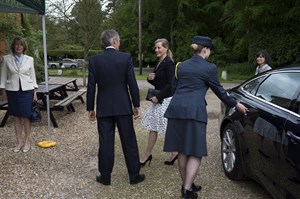 Her Royal Highness arrived a little after 3pm and was greeted by Mr. Nigel Atkinson, The Lord Lieutenant of Hampshire. Mr. Tom Floyd, The High Sheriff of Hampshire and Cllr Karen Hamilton, The Mayor of Test Valley.
Her Royal Highness and our other VIP guests were escorted into the DMWS boardroom by Nicky Murdoch and were seated for a short briefing on the DMWS. They then met members of staff and talked to them about their roles. Trevor Edwards, DMWS Director of Operations took Her Royal Highness through the DMWS operational timeline, which illustrates every military conflict that DMWS have deployed to from 1943 until the present day.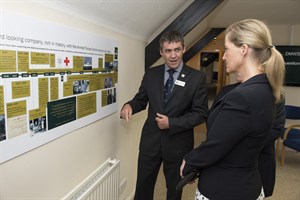 Assisted by DMWS Director of Strategy and Planning, Paul Gaffney, Her Royal Highness also studied three storyboards depicting real DMWS cases – each very different which demonstrated to her the vast diversity of the support DMWS offers to patients and their families.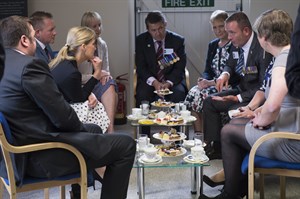 Finally Her Royal Highness was introduced to DMWS Patron and Iraq veteran Simon Brown and 8 other DMWS service users who talked to her about their own experiences and how DMWS had helped them during difficult and stressful medical treatment. Her Royal Highness enjoyed a delicious afternoon tea with the group and was visibly touched by their moving stories.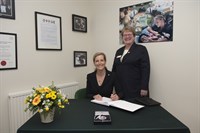 There was just enough time before the visit came to an end, to present Her Royal Highness with a Posy, some Jelly Beans for Lady Louise and Viscount Severn and a DMWS water bottle to keep her hydrated during her Palace to Palace cycle ride.
Her Royal Highness graciously signed the DMWS visitors book and was waved off by our assembled guests.
A truly unforgettable day was had by all.

Published:
26th May, 2016