75 Years On: The Welfare Officers Supporting Veterans in Scotland
Emma Gration works as a Welfare Officer for the Defence Medical Welfare Service (DMWS) providing practical and emotional support to the Armed Forces Cummunity when they receive medical treatment. In Scotland, DMWS is a key member of the Unfortotten Forces Project, run by Poppy Scotland, with the aim to improve the lives of older veterans, their family and carers.
David McCann from Forces News / BFBS Scotland spent some time with Emma to find out how DMWS helps the veteran community in Ayrshire. Watch Forces News report on DMWS Servie delivery in Ayrshire below.
75 Years On: The Welfare Officers Supporting Veterans in Scotland
Report and Artilce by David McCann, Forces News / BFBS Scotland.
Veterans gather at a cafe to talk more openly amongst
themselves (Picture: Suzanne Fernando).
A service that provides vital support to the Armed Forces community is marking its 75th anniversary.
The Defence Medical Welfare Service has spent the last seven decades helping the NHS give treatment and aftercare to serving personnel and veterans.
DMWS Welfare Officers are out in the community every day to support during treatments in hospital and in providing aftercare services.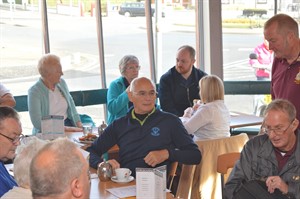 Emma Gration, DMWS Welfare Officer says they help veterans get out and about more:
"Quite often you find that that veterans might be a bit isolated – they don't really have any family or friends.
"We can put them in touch with different organisations that can help them to get out and about a bit more and to introduce them to other veterans groups."
Ms Gration added that they also help them get to hospital appointments if they're on their own.
Many of them meet at veterans cafes, where they get the chance to talk openly in a comfortable environment.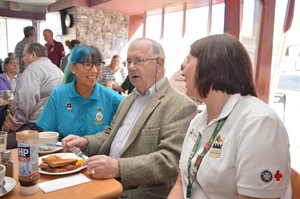 Martin McArthur spent 30 years in the RAF, and he has been using the services since his wife passed away.
Amongst veterans isolation can be a major problem – especially after bereavement.
Welfare Officers routinely take Mr McArthur to meet other veterans within the community.
He said: "Emma has looked after me, taken care of me and pushed me along to keep me going.
"My wife passed away just a few weeks ago – Emma has been a great support since then."
As well as getting former servicemen and woman out of their homes, the welfare officers also make home trips to check on them.
Jimmy McBreen served with the King's Own Scottish Borderers in the Korean War and has regular visits to make sure he's getting the right medical care.
Mr McBreen said he had waited months for an appointment but Emma was able to get him one to adapt his home to meet his medical requirements.
Published:
27th September, 2018