In the UK and Germany we support service personnel, their families, veterans and other entitled civilians when they are receiving treatment in hospital or recovery centres.
When I first started here (recovery centre) I was a very different man. With the great work of DMWS Welfare Officers I feel now I have my life back on track. They have supported me through this period of change with empathy and when needed a good sense of humour. They have always made time for me and my family. They are remarkable people.

DMWS has teams in two recovery centres, run by The Royal British Legion:
Battleback Centre in Lilleshall, UK and
Byrdon House in Paderborn, Germany
Personnel Recovery Centres offer comprehensive recovery courses and programmes for all wounded, injured and sick soldiers with modern, adapted residential accommodation. The centres are designed to offer a conducive military environment for recovery activities including welfare, medical, educational and resettlement courses.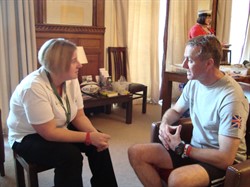 Our teams spend time motivating residents who are experiencing difficulties adjusting to their injuries and helping residents who have difficulties socialising and engaging with others. Our support is provided in a professional but informal way. Patients can speak to our welfare staff at any time of the day or night for as long as they need. We are also here to support the family members of the person in recovery to help them cope in a life-changing situation.
Contact us
Please contact us if you need to speak to someone.
Referral Contact:
Telephone: 0800 999 3697
Email: referral@dmws.org.uk
General Enquiry Contact at DMWS Headquarters:
Telephone: 01264 774 000
Email: 
info@dmws.org.uk

DMWS, The Old Stables, Redenham Park, Andover, Hampshire, SP11 9AQ