The Defence Medical Welfare Service (DMWS) is delighted to be part of Unforgotten Forces, a collaboration of 15 key organisations, led by Poppyscotland, who has been awarded £4 million from the Aged Veterans Fund to undertake a three-year programme of support for older veterans and their families in Scotland.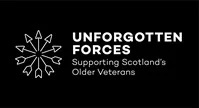 Thanks to the successful project pilots of our Medical Welfare Service in other parts of the UK, our service is now also available to older veterans, their family and carers in Scotland. Veterans will be identified as they enter the hospital services, triggering a referral to DMWS Welfare Officers.
Our Leaflet
Download our leaflet for more information regarding our Medical Welfare Service for the veteran community in Scotland.