Updating the Lord-Lieutenant of Hampshire on DMWS achievements
For the Defence Medical Welfare Service the New Year started with a prestigious visit from HER Majesty's Lord-Lieutenant of Hampshire, Nigel Atkinson on 10 January 2017. It was a great opportunity for the Hampshire-based charity to update the Lord-Lieutenant on the charity's significant contributions in 2016 and its ambitious plans for the years ahead.
The Defence Medical Welfare Service (DMWS) were delighted to receive an official visit from Nigel Atkinson Esq, HM Lord-Lieutenant of Hampshire to charity's Headquarters in Andover today. The visit was planned to brief Mr Atkinson, whose principal duties are to represent The Queen in Hampshire, including encouraging charitable giving in the county, on the developments within DMWS and to provide an outlook for 2017. He was accompanied by his wife, Christine Atkinson, St John Ambulance County President for Hampshire and also present was DMWS Trustee, Maryanne Burton JP Head of Volunteering at British Red Cross, reinforcing our historic relationship with the Order of St John and the British Red Cross.
DMWS was formed by the Joint War Committee of the British Red Cross Society and The Order of St John of Jerusalem in 1943. We are proud to have made a huge impact on the lives of wounded, injured and sick personnel from all three services and their families. Our Welfare Officers work within the NHS, with health and recovery organisations in Defence and the Police and a wide range of charitable partners including Help for Heroes and the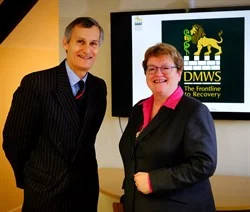 Royal British Legion and the Police Firearms Officers Association and the Welfare Support Programme for the Police Federation of England and Wales. We have supported over 1, 000 000 patients and their families since 1943 and helped to improve the experience when admitted to hospital. Our service and also releases clinical staff to concentrate on their own core tasks.
Nicky Murdoch, CEO of the St John and Red Cross Defence Medical Welfare Service, welcomed the opportunity to share some of the charity's 2016 highlights which included the acceptance, by Her Royal Highness, The Countess of Wessex, of the role of our Royal Patron and the presentation of the Sovereign's Medal of Merit by the Order of St John, the very first time it has been awarded. Additionally DMWS has been commissioned to deliver multiple new welfare projects across the UK.
Nicky said "It was brilliant to be able to update our Lord Lieutenant on the progress of DMWS as an organisation and demonstrate how DMWS continues to exemplify the humanitarian principles of its forbears. It is only right that we support those who put themselves in harm's way for the nation when they are in need. All of us in DMWS are very proud to do so."
DMWS looks forward to another successful year and making an even greater contribution to relieving need and improving the experience for those in the patient care pathway.
For more information about DMWS please visit www.dmws.org.uk
* Top Image (left to right): Guy Edwards, Christine Atkinson, Nigel Atkinson, Nicky Murdoch, Paul Gaffney, Maryanne Burton
Published:
10th January, 2017