TV team transform war hero's garden
Nathan Cumberland, Welfare Officer Defence Medical Welfare Service – DMWS is used to helping others. Since his life-changing injury in Afghanistan, he is passionate about supporting veterans. On Tuesday he was on the receiving end of an unexpected surprise by Alan Titchmarsh and his ITV 'Love your Garden' team at Nottingham University Hospitals NHS Trust. Read Newark Advertiser's article by Dan Churcher below.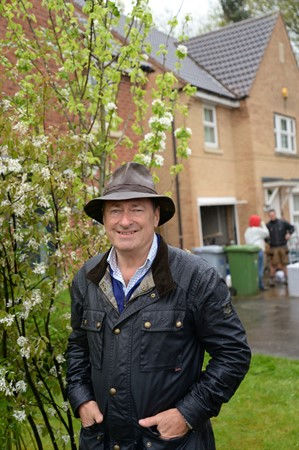 Television favourite Alan Titchmarsh has been busy transforming the Fern-wood garden of war hero Nathan Cumberland as part of the show Love Your Garden.
Alan and his team created a garden Nathan, 34, his wife, Rachael, 32, and son Harry, 7, can enjoy for years to come.
Alan told the Advertiser: "Nathan is one of those people who says: 'Why me, I am ordinary?' But when you speak to them, you realise they are anything but. They are extraordinary.
"We get people writing in recommending people whose lives would be turned around by having their garden transformed, be it because of disability or circumstance.
"We get thousands of applications and a great deal of time is spent sifting through to find the most deserving.
"Nathan is a double amputee, a soldier, but he's much more than that. Nathan is a great guy who does so much for other people.
"He left the Army and became a welfare officer. He works for an organisation that supports veterans who at their time of leaving didn't have the support that is available now."
Nathan was six weeks into his third tour of duty in Afghanistan in 2009, when he was caught in a blast while leading a foot patrol in Helmand Province.
He lost both legs, but, despite his injuries, Nathan, continued to direct his young and inexperienced Grenadier Guardsmen.
Nathan went on to make an inspirational recovery. In 2010, he kept a promise to Rachael, and, on prosthetics, walked with her down the aisle on their wedding day.
The same year he completed Newark Half-marathon and has used sport to rebuild his life. He took up rallying and also represented Great Britain twice in the Invictus Games, championed by Prince Harry.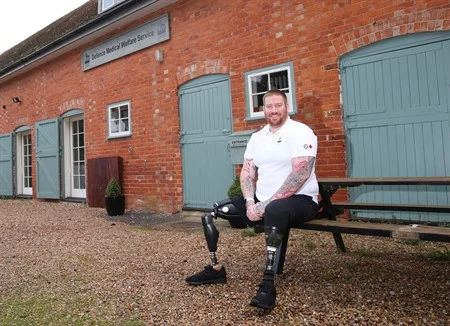 Having left the Army, he now works with the Defence Medical Welfare Service (DMWS) on a project that supports veterans aged over 65 who are in hospital, and their families.
Nathan said the first he knew of a possible garden make-over was when he received a call from Maureen Haley-McDonald, of Newark Patriotic Fund, a charity that supports serving and former Forces personnel.
He was interviewed by a producer but never expected anything to come of it.
"Then I was at work at the Queen's Medical Centre and the door opened, and an arm and a head popped through and there was Alan Titchmarsh," Nathan said.
"'I have come to do your garden' he said.
"After that it has all been a bit of a whirlwind."
Nathan and his family stayed in a hotel while the garden was transformed. The result was due to be revealed to them yesterday.
The public can see the result when the show is aired on ITV in the summer.
Alan would only say that it was a family-friendly space, sensitive to Nathan's mobility problems and with plenty of space for entertaining.
Alan said: "We don't breeze in and do what we want to do. It isn't about imposing our will on the recipient. It is about listening to them and understanding their needs and what will make them happy."
by Dan Churcher, Newark Advertiser
https://newarkadvertiser.co.uk/news/2018/04/26/tv-team-transform-war-hero's-garden
Published:
16th March, 2018