The RNRMC awards funding to DMWS for the expansion of welfare services through the UK
The RNRMC (Royal Navy Royal Marines Charity) have generously awarded DMWS a 3-year grant towards the expansion of services across the UK. The funding will be used to further our reach and help more individuals from the Armed Forces community, namely those who have served or continue to serve in either the Royal Navy or Royal Marines, then ever before.  
With a focus on pushing our service into the North of England, as of 2023, the funding will allow DMWS to have expanded into the following locations: Catterick, Newcastle, Leeds, York, and Darlington. Within this expansion of services, DMWS will look to cover four primary areas of concern amongst serving personnel and veterans: general wellbeing, mental health, future long term health treatment, and social isolation.
From the funding we aim to achieve the following for our service users; a reduction in loneliness and social isolation, to improve overall mental health and enable individuals to remain independent for as long as possible. These outcomes are inclusive of older veterans, working age veterans and those currently serving as well as their families and dependent children.
DMWS welfare officers are specifically trained to offer support for a range of welfare needs, meaning our service can be tailored to the individual, finding specific support and solutions for them. Although there is no limit to the specific need we offer support for, we do specialise in ensuring our beneficiaries' do not face illness or injury alone, reduce the stress and anxiety associated with the healthcare journey by resolving conflict and managing patient and family expectations.
In total over the 3-year period DMWS will look to support an additional 1,200 beneficiaries through the funding provided by the RNRMC – which works out on average just over one new person every day over the course of the grant. These target beneficiaries come as part of a steady expansion plan which in which we will build strong local partnerships to provide effective welfare support in key locations. These locations will be selected based on a balance of numbers of beneficiaries and the willingness and effectiveness of local NHS (National Health Service) partners to support service development. This two-pronged approach will allow us to be where beneficiaries need us and build effective referral pathways.  
So far, this year, April 2021 – May 2022 DMWS have supported 385 direct RNRM (Royal Navy and Royal Marines) beneficiaries, 410 additional family members and carers and a further 283 staff members involved in their care. With this generous funding, DMWS will be able to expand the number of beneficiaries we can reach by offering specialist welfare services in new areas.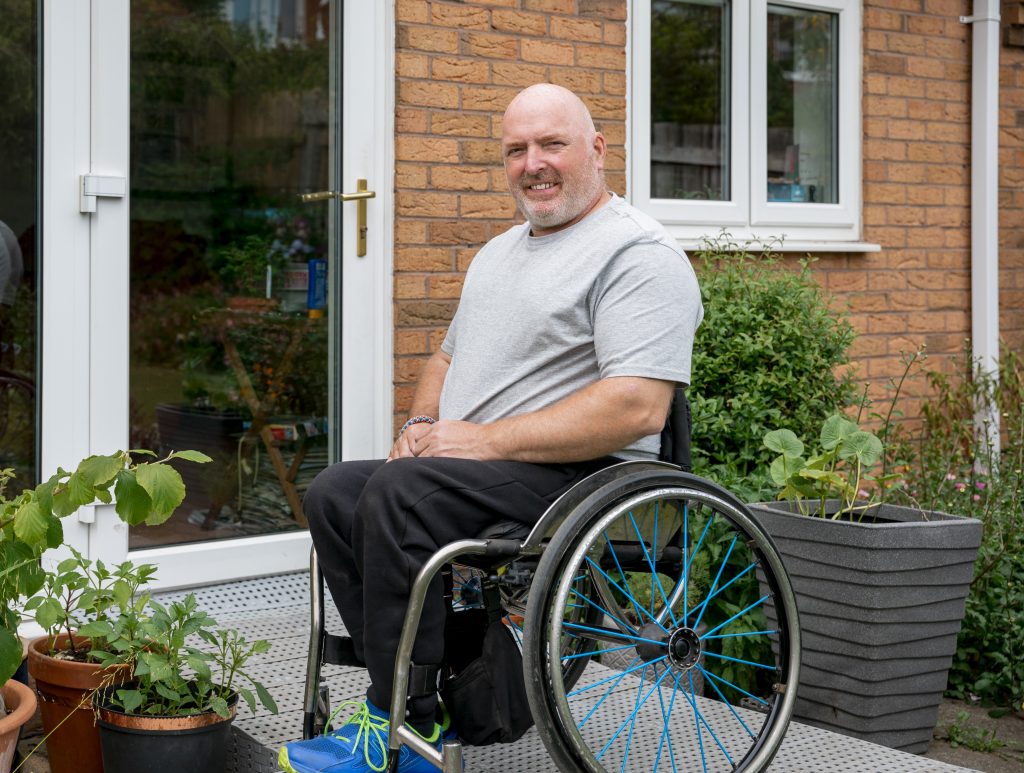 CASE STUDY

For our Royal Navy and Royal Marine beneficiaries, like Gary, this means support with key issues, worries, and concerns they battle with whilst on a healthcare pathway.

Gary is a 55-year-old former Royal Marines Corporal who served for 11 years; he was medically retired due to an accident and now uses a wheelchair. Gary was classed as vulnerable during lockdown meaning he was unable to go out and his activities stopped. Due to his reduced mobility, he developed pressure sores and was admitted to hospital where he was referred to DMWS Welfare Support Worker (WSW). To be discharged home safely, Gary needed a specialist tilting bed that would help with his recovery and prevent further pressure sores. The only one available to him via the NHS required his carer to reposition him every two hours including overnight; to have a bed that that automatically tilts and repositions was unavailable on the NHS due to the cost of £10,000.

Our WSW liaised with the discharge team and SSAFA to put together a proposal to apply for funding for an automatically tilting bed. This would support his recovery, prevent pressure sores, and reduce the amount of manual handling Gary's carer would need to do. Through dedicated efforts, our WSW secured this funding for the bed. This allowed to return home and improved his mental health as he was back in his own home with his beloved dogs.
---
Facebook @DefenceMedicalWelfareService
---
For more information on The Royal Navy Royal Marines Charity visit Home | The Royal Navy and Royal Marines Charity (rnrmc.org.uk)
Published:
4th January, 2023