Soldiering On Award Winner and Finalist Three Years In A Row
The Defence Medical Welfare Service (DMWS) has been shortlisted for a third year running as a finalist in the 2019 Soldiering On Awards. The prestigious military awards recognise outstanding achievements of service personnel, and individuals and groups that support the armed forces community.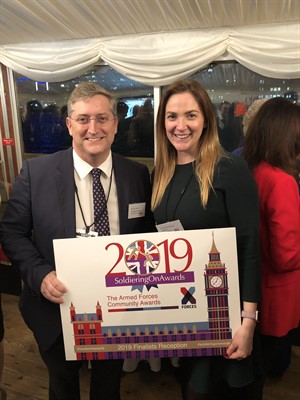 Last year DMWS won the 'International Award' and was also a finalist in the Healthcare and Rehabilitation category; this year our welfare officer Nathan Cumberland has been named a finalist in the Inspiration Award, sponsored by NatWest. This award recognises a person or group who have overcome significant challenges, injury or disability and whose achievements are an inspiration to others.
Nathan Cumberland has been a welfare officer with DMWS for almost two years. Through his work as a welfare officer; Nathan supports veterans and their families during times of physical and mental ill health. Having been on the receiving end of welfare support, he knows that additional help in times of crisis is invaluable to both the patients and family members.
DMWS CEO, Paul Gaffney said: "I am extremely proud that the DMWS team has once again been recognised for their outstanding achievements. Nominations for the Soldiering On Awards reached their highest ever this year; which highlights the significance of Nathan's personal and inspirational journey. To reach the finals is a real testament to the work he does and the wonderful support all our welfare officers provide across the nation."
Soldiering On Award nominations are judged by an independent panel, the finalist will be announced during the black tie gala dinner at the Westminster Bridge Park Plaza Hotel in London on Friday 5th of April 2019.
Published:
14th February, 2019