Scottish Veterans benefit from additional Welfare
DMWS Scotland is delighted to have teams embedded within NHS Trusts in Ayrshire, Fife, Grampian and Lanarkshire to ensure that older veterans and their families have access to the very best of welfare support, when faced with hospitalisation or when receiving medical treatment.

Together with 14 other organisations, DMWS plays a key role in the "Unforgotten Forces" consortium, led by Poppyscotland, to improve the lives of those who have served the country. This three-year project has been funded by the Aged Veterans Fund to deliver a range of new services and enhancements in areas including advice, access to healthcare, social isolation, respite, along with entertainment and therapeutic programmes for those living in care homes.
DMWS has provided medical welfare support to the Armed Forces community for over 70 years. With the number of aged veterans continuously growing, there is an increased demand for our professional service to support this community when they are receiving medical treatment. In response, DMWS successfully launched the Aged Veteran Welfare Support Service in Greater Manchester in February 2016. With around 100,000 military veterans aged 65+ living in the area, additional support provided by our Welfare Officers is strategically well placed. Soon after, the project was rolled out in Bristol & Somerset. We are very pleased that our service has made such a difference to veterans, their family members and the communities that we have extended our service not only to Scotland but also to Herefordshire and Nottinghamshire.
Any hospital admissions or a programme of treatment can be a stressful and daunting experience. Being an older veteran can bring its own set of challenges; when returning home from combat, this community did not receive the same level of support as is standard today. This is thought to have led to undiagnosed mental and physical health conditions, as well as difficulty to transition back into civilian life resulting in other problems such as marriage breakdown, unemployment and homelessness. Combined with the transient nature of service life, veterans are less likely to have family nearby or a long established support network, leading to loneliness and isolation; all of which can hamper recovery.
As a generation that was trained not to show weakness, this group may not highlight health problems when they arise nor question medical staff. However, the health needs of this group are significant; in general, veterans often experience physical health issues linked to their service, such as combat related injuries and back problems from carrying heavy equipment; ear, nose and throat problems, sleep disorders and chronic pain problems as well as mental health problems.
The benefit of providing additional welfare to veterans has now been recognised. Where our service is established, DMWS welfare officers are available for the aged veteran community to offer practical and emotional support when they receive medical treatment. The aim is to improve mental wellbeing, encourage a positive approach to treatment, reduce social isolation, and promote independence which can lead to earlier hospital discharge. Our person-centred service is tailored to the individual needs of the patient and their family. Some examples of the support we provide are:
A confidential, impartial and non-judgemental 'Listening Ear Service'
Bedside visits
Help with resolving any medical care issues and to understand treatment
Supporting patients and families when talking with medical teams
Providing patient's family with emotional and practical support
Accompanying and supporting patients at Outpatient Appointments
Intelligent signposting to other organisations for support
Help to make sure that support and services in place when patient's leave hospital
Telephone support and follow up post discharge
Lisa Leece, Head of Commissioning and Performance at DMWS, said: "We are really pleased to be working on these projects that will bring together services to help improve the wellbeing of the aged veterans community.
"Over 60 per cent of our welfare officers are from an Armed Forces background and all of our officers are specially trained in this field. This gives them a real sense of understanding and enables them to fully support patients from the Armed Forces community".
Meet the Team: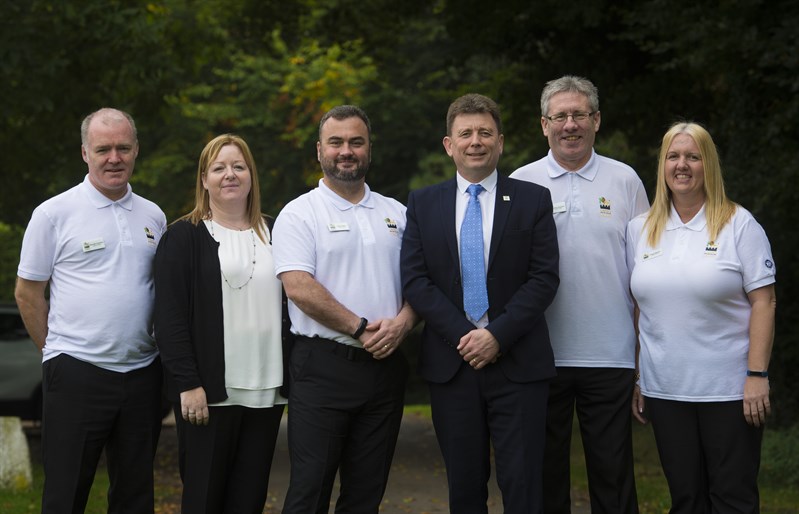 From left to right: Kenneth Cumming (Welfare Officer, Lanarkshire), Marie Crombie (Team Lead, Scotland) Andy Riach (Welfare Officer, Grampian), Bob Reid (Area Manager, Scotland & Overseas), Andrew Carpenter (Welfare Officer, Fife), Sharon Murphy (Welfare Officer, Ayrshire)
HOW TO CONTACT US
If you are a member of clinical staff, patient or a family member dealing with a veteran who would benefit from our service, you can contact us free on:
Phone: 0800 999 3697
Email: referral@dmws.org.uk
Published:
17th October, 2017