Police Welfare Service Pilot Performance Review 2017
In June 2016, DMWS started to deliver a Police Medical Welfare Service Pilot for Hampshire Constabulary to improve the health, wellbeing, and individual resilience of the Force. The success of the pilot led to our service also being offered to Police Officers, PCSOs and Police Staff members of Avon & Somerset Constabulary in early 2017.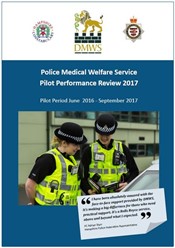 A recent review of our welfare Pilots has identified a number of benefits for individual police officers and their families at a time of need and from an organisational perspective; our service has notably contributed to a reduction in sickness absence, improved the co-ordination and delivery of individual care and considerably enhanced the organisational duty of care obligations.
In addition, by using the nationally recognised Warwick-Edinburgh Mental Wellbeing Scale (WEMBS) we have secured evidence that our interventions have notably improved the wellbeing and effectiveness of all involved.
To read the full Performance Review click here: Police Performance Review
For more information please visit our Police Page
Published:
22nd November, 2017