Pilot Scheme Offers Support to Aged Veteran Patients at UHSM
Around Armistice Day and Remembrance Sunday we are reminded about the heroism of those who gave their lives for their country in conflicts around the world.
For those who were lucky to make it home, life after the Armed Forces can still prove difficult, especially for older veterans if they fall ill and need hospital treatment. DMWS is proud to deliver a well deserved medical welfare service to the Armed Forces Community.
The University Hospital of South Manchester is supporting a pilot scheme where a welfare officer from the Defence Medical Welfare Service (DMWS) has been posted at Wythenshawe Hospital to offer help and support to former servicemen and women. DMWS is an independent charity and has been providing medical welfare support to the armed forces since 1943.
Around 25,000 members of the Armed Forces aged over 65 years live in Greater Manchester and the DMWS provides help and support to aged veterans, including foreign or Commonwealth and National Service, when they are admitted to hospital or having medical care.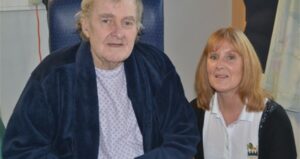 Jane Ashton, the new Welfare Officer for the DMWS at Wythenshawe Hospital offers comprehensive impartial and confidential medical welfare to patients, members of their immediate family, their widows or widowers, to their primary care givers and healthcare professionals. Jane, a former Army medic, is aware of challenges facing veterans and can make an independent and impartial early needs assessment, or just offer a listening ear and somebody to talk to in confidence. She can identify issues that may affect a patient's well-being and then signpost and support referrals to other charities and voluntary organisations. As well as supporting veterans themselves, Jane liaises with and supports family members and accompanies families to critical care and specialist units. She is also able to support the bereaved and terminally ill.
Jane said: "Any hospital treatment, whether planned or unplanned, can be stressful. Patients may spend extended periods of time away from their support network, resulting in feelings of isolation, stress and worry, all of which may hamper their recovery. We are there not only to support patients, their families and care givers but also the Trust's staff to help maintain a better patient experience."
If you are a veteran receiving inpatient treatment at Wythenshawe Hospital, or have a friend or family member who and think they may need support, please email jashton@dmws.org.uk
Published:
9th November, 2016