Paul Gaffney appointed as DMWS's new CEO
DMWS is delighted to announce the appointment of Paul Gaffney as the new CEO of the Defence Medical Welfare Service, replacing Nicky Murdoch MBE who will be stepping down after six remarkably successful years as CEO.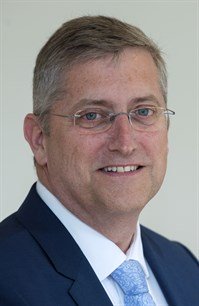 Paul, who has been with DMWS for the past two and a half years, has taken over as CEO as of 1st of December 2017. He brings commitment, dedication, commercial and business skills to the organisation at a time of change and growth. He will be driving the company to the next level, building on the excellent growth and momentum achieved under Nicky's leadership.
We are very pleased to also confirm that Nicky has accepted the role as Strategic Relations Director, which means that DMWS will be able to retain Nicky's excellent networking skills and her invaluable knowledge of the sector we are operating in. In this new role, Nicky will be the driving force behind our 75th anniversary next year. In the long term, the role ensures that we will continue and deepen our strategic partnerships with organisations such as the NHS, MoD, The Police and other organisations supporting those who serve the nation and the community.
Since Paul joined DMWS in 2015, he and Nicky have made a significant difference to the business and forged a successful partnership. Keeping Nicky in a key strategic role and recruiting for the CEO position from within DMWS, will bring stability and continuity to the organisation.
Paul said: "I congratulate Nicky on all that she has achieved as the CEO of DMWS. Her drive, tenacity and leadership has seen the organisation flourish despite significant challenges en route. What sets her apart is that under that driven individual is a heart of gold that is always ready to help folks when they need it most."
Over the past few years as the company's Chief Operations Officer, Paul knows DMWS well and has made a significant difference to the business of this great service delivery organisation. Paul is an experienced business executive who has spent 30 years in industry, running both large and small organisations. He brings immense business expertise and with his understanding, commitment and experience, his skills are just what DMWS needs at this time of considerable growth. Click here to read Paul's Bio.
Paul's vision for the future of DMWS, includes maintaining the support for those who put themselves on the front line, establishing a truly national footprint of highly professional Welfare Officers, continuing to diversify into the broader serving population and implementing a new IT reporting system to provide DMWS with better outcomes data, to name but a few.
DMWS has gone through significant changes over the last few years and we are proud that we have managed to embrace change and transformed into a high performing and sustainable organisation.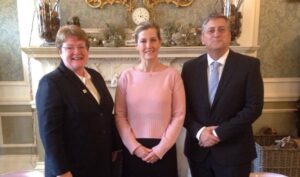 Mrs Maryanne Burton, Chairman of DMWS said; "Nicky's contribution to DMWS has been outstanding and has taken it to a new level, having reformed and transformed the organisation over those years with her team. It is a privilege to be chairing DMWS at a time when it is going from strength to strength providing welfare support to people, often at a time of their greatest need."
Nicky added: "I know Paul will continue to develop this great company even more. We have come so far over the last 6 years and I am hugely proud to have been the helm of an organisation that does so much good for so many people who need it. "
Nicky Murdoch and Paul Gaffney visited Her Royal Highness, The Countess of Wessex yesterday (4th of December), to officially introduce Paul as the new CEO to our Royal Patron and to update HRH on the fantastic progress the charity is making.
Published:
5th December, 2017