New Police Welfare Service launched in Hampshire
The Defence Medical Welfare Service (DMWS) is excited to announce the official launch of a Police Medical Welfare Support Service, available to Police Officers, staff or family members of Hampshire Constabulary. The service is independent and complements the welfare support currently offered by the Police Federation and others. It aims to improve recovery time, wellbeing and resilience across the Force.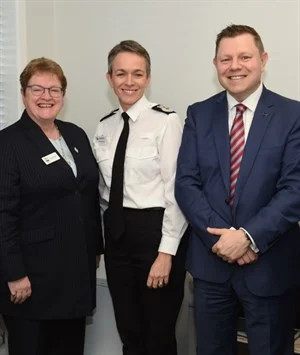 The official launch was held on Wednesday morning at the Hampshire Fire and Police Headquarters in Eastleigh with Olivia Pinkney, the Chief Constable for Hampshire Constabulary, John Apter, Hampshire Police Federation Chairman, and Nicky Murdoch, CEO of DMWS plus other key personnel. Hampshire is the first county to receive the support but plans are already in place to roll out the service in the Avon and Somerset area, too.
Some pre-publicity for the Police Medical Welfare Support Service had created a number of requests for the service even before the official launch, and DMWS Welfare Officers have already supported several cases over the last few months. The feedback from those being supported has been extremely positive, with comments such as, "DMWS Welfare Officers visited me very early on in my recovery, and remained a constant source of support throughout", and "I found the support given by DMWS invaluable and think their service is long overdue in a policing environment".
The support is available to injured or assaulted officers, those receiving medical treatment, or those on sick leave, or when additional help is needed during suspension or investigation. DMWS provides everything from a confidential and impartial listening ear, practical assistance, home visits, liaising with the Constabulary, and emotional support. DMWS works in partnership with existing police, welfare & charitable organisations with the aim of improving the experience for patients and their families at a time of need.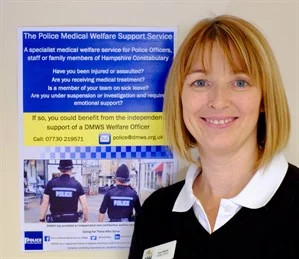 DMWS Welfare Officer Sue Wade says: "As Welfare Officers we have seen officers and staff who put themselves in harm's way to protect the public. They work extremely hard, in very difficult circumstances. Looking after them should be a priority and the service offered by DMWS ensures Police Officers, Staff and families get the care they deserve".
DMWS is a specialist organisation that has been providing an independent and confidential welfare service since 1943, to those in hospital, rehabilitation or recovery. Being rooted in operational experience, the charity's highly trained Welfare Officers have a profound understanding of the issues and challenges faced by those who provide 24/7 protection to the public.
Hampshire Police Federation Chairman John Apter said: "I am very proud to be working with DMWS who will be providing an extra layer of support for our officers and staff. I am passionate about making sure we give the best possible care and support to those within the police family who need it. DMWS are well known at providing first class medical welfare within the Military, to have that now within policing can only be a good thing.
"Our officers and staff perform a difficult and challenging job; in times of need it is vital they have the very best support available. They deserve nothing less".
The service is delivered in close collaboration with other organisations including the Police Federation of England and Wales, the Police Superintendents Association, and the National Police Chiefs Council to deliver the service for everyone, at every rank, when they are in need.
How to get in touch:
If you need support and you work for Hampshire Police, you can either contact your Hampshire Police Federation representative or contact DMWS via our website at www.dmws.org.uk/police
If you are is interested in the work of DMWS and would like to find out more visit www.dmws.org.uk
Published:
21st December, 2016