New Model of Care for Armed Forces Community launched
The Defence Medical Welfare Service (DMWS) is delighted to announce that the new Armed Forces Navigator Pilot Project has officially been launched on the 17 July 2017.
The pilot is being run in partnership with Birmingham Community Healthcare NHS Foundation Trust (BCHCFT), the Tavistock Institute and DMWS, and has been funded by the Forces in Mind Trust with the aims to better understand and support the health and social care needs of the Armed Forces community. The project will identify gaps in availability and accessibility of required services and raise awareness with local commissioners, to ensure there is appropriate consideration and planning into the future.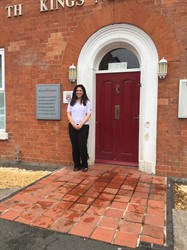 DMWS healthcare navigator, Sheila Herriotts, will lead and evaluate a one year pilot that sees a new model of care to support the Armed Forces community in Birmingham. The role will focus on improving awareness and support for this Community within the Primary Care sector, helping service users and strengthening links between the wider military community and GPs.
Sheila has only recently started in her role but has already met with several GP surgeries in Birmingham to promote the additional service available to serving personnel, veterans, reservists and their families. As a result, she is already supporting veterans who were referred to her within the pilot. Sheila has helped them access a range of health, social and third sector support that they either were not aware of or too afraid to approach.
The Armed Forces healthcare navigator role also aims to develop Primary Healthcare workforce training, which should include cultural aspects of service life to improve understanding of patients and their families from an Armed Forces background. More importantly, a comprehensive understanding of the wealth of support available is needed to tackle a range of challenges Armed Forces families may face following services – housing, education and employment.
Sheila said: "I am really excited and privileged to be part of this innovative project in Birmingham. To date everyone has been extremely receptive and supportive and I am confident the service will continue to be successful. I look forward to working in partnership with other agencies to deliver a seamless service providing the best possible outcomes for those who have served."
Scott Thornton, Programme Manager from the BCHCFT said: "This is our first step in our journey to improve recognition and support for the Armed Forces Community of Birmingham. We are keen to ensure that those we support leave our service and go on to lead wholesome and fulfilling lives. Working closely with all our partners we aim to make Birmingham the go to place after life in the Forces."
If you would like to find out more about the new Armed Forces Navigator Project or would like to receive support please contact:
DMWS healthcare navigator
Miss Sheila Herriotts
tel: 07721127782
email: sherriotts@dmws.org.uk
Published:
7th August, 2017