Mental Health Awareness Saves Lives
A compelling letter from one of the Mental Health First Aid Course Attendee illustrates the difference Awareness around Mental Health can make to all of us.
DMWS Training Manager Mark Perryman is passionate about advocating for more education around Mental Health Awareness and Wellbeing and said: "It is stories like these [letter below] that makes it all worth while. I think huge progress has been made around normalising mental health – support is our there nowadays. Our training encourages people to access these specialised sources of support early, empowering faster recoveries."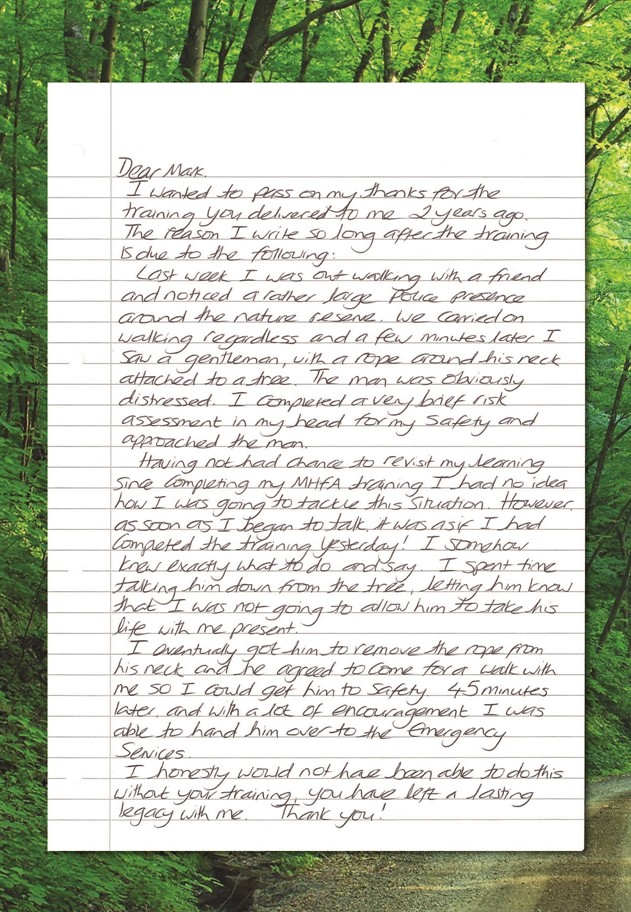 About DMWS Training:
DMWS Training offers a range of courses around welfare, wellbeing and resilience, including the full portfolio of MHFA courses. We run regular open access MHFA courses at our head office in the countryside near Andover, in Hampshire. We also deliver training at clients' own premises. Our clients range across the corporate, education, defence, healthcare and third sectors.
Our other courses include a Level 3 Diploma in Welfare Studies (accredited by the Institute of Welfare); Resilience for individuals and managers; Applied Suicide Intervention Skills Training (ASIST), and bespoke courses such as Armed Forces Awareness for NHS and Local Authority staff.
Courses can be booked:
Online: on our website
Call: 01264 774008
Or Email: training@dmws.org.uk
Published:
10th October, 2018