DMWS represented at Iraq and Afghanistan memorial unveiling
Welfare Officers from the Defence Medical Welfare Service join Armed Forces Colleagues and Civilian members of staff in Iraq and Afghanistan memorial unveiling
Our nation owes much to the men and women of its Armed Forces who give so much to defend our values and way of life. The conflicts in Afghanistan and Iraq have highlighted these sacrifices. Today, the unveiling of a new memorial in Victoria Embankment Gardens, Westminster by Her Majesty The Queen, honours both the UK Armed Forces and civilians who served their country in the Gulf region from 1990 – 2015.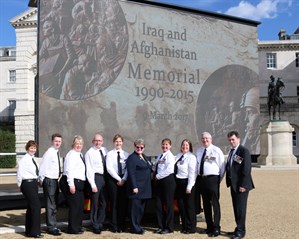 The Defence Medical Welfare Service (DMWS) was represented by 10 members of staff at the event, in recognition to the huge role they played in Operations TELIC and HERRICK, and because of the support we continue to give to our Armed Forces today. Welfare Officers who deployed to Iraq and Afghanistan, spouses of Veterans of both conflicts and veterans of the 3 Services who work for DMWS attended.
The Charity has been providing medical welfare support to Armed Forces Personnel and their families for more than 70 years. We remain the only military charity and civilian welfare organisation to deploy to areas of conflict with the Armed Forces working alongside medical staff in the Field Hospitals. Between 2003 -2014 DMWS has sent out more than 150 Welfare Officers with our troops to provide practical and emotional support to the wounded, injured and sick in the Role 3 Hospital.
DMWS Welfare Officers Elaine Crawforth and Julie Ponton were presented to Her Majesty and Mark Perryman and Sue Wade met the Prime Minister in recognition of the outstanding contribution supporting frontline staff that has been made by DMWS. DMWS Welfare Officers have been described as the 'guardian angels' at incredibly difficult and stressful times, largely unseen but ever present and always ready to help. Being recognized by The Queen and the Prime Minister at such an important event was a real honour.
Elaine Crawforth served for 22 years in the Army prior to joining DMWS as a Welfare Officer. In 2014, she deployed with DMWS to Op HERRICK and said: "Working as a Welfare Officer in support of the Military was a humbling experience; it is an honour to represent DMWS at the unveiling of the memorial."
To bring our support to life, here are two examples of the difference Elaine and the Charity's Welfare Team made to Serving Soldiers in Afghanistan:
The Team oversaw a 'Next of Kin' call for a soldier who was an emergency medical evacuation returning to the UK. He was 'helped' to rehearse what he was going to say to his Mum as he was quite anxious. The team offered to speak to her if required and after he had finished speaking he handed over the phone so his Mum could be reassured that he was okay; in the best hands and any questions or concerns (non-clinical) were answered. Both the patient and his family had their worries alleviated at a time of heightened anxiety.
On another occasion, the team supported the colleagues of casualties after an incident. They were looked after in the Welfare Department where they could be updated on the progress of the patients that had been brought into the hospital. Sadly some of the casualties did not make it and it was a distressing time for the men.
DMWS Welfare Officers were also one of the first people Ex-Corporal Simon Brown saw after he sustained life-changing injuries during a rescue mission in Basra in 2006. Simon recalls: "When I woke up in hospital it was not just me facing a worrying and uncertain future, but my family too. Having someone with an ear to bend or a shoulder to cry on gave me comfort. DMWS let us air our fears without unnecessarily worrying those around us. My family and I will always be grateful for the support given by DMWS in the dark days following my injury." Simon has supported DMWS as a Charity Champion since 2012.
Today, The Queen opened the ceremony and unveiled sculptor Paul Day's memorial, honouring the Armed Forces and civilians who put themselves in harm's way to protect our country during the Gulf War and conflicts in Iraq and Afghanistan.
DMWS is immensely proud to having provided comfort, support and compassion during the conflict years and demonstrated acts of personal sacrifice and comradeship. Our Area Manager Scotland and Overseas Major (Rtd) Robert Reid said: "After leaving the Army I joined DMWS as the work I witnessed them doing during the conflicts, both in theatre and at home, to help and care for the wounded and bereaved families was fantastic. Since the end of the conflicts we have continued this work as it is clear there is an ongoing and unremitting need to look after and support all of our veterans and I'm very proud to be part of an organisation with this ethos at its heart."
DMWS was formed by the Joint War Committee of the British Red Cross Society and The Order of St John of Jerusalem in 1943. The Charity's Welfare Officers have deployed to every major conflict since World War 2, for which they receive the same Operational Service Medal.
Published:
9th March, 2017