International Woman's day: Meeting the needs of female soldiers, veterans and spouses
Today, on International Woman's day we celebrate the cultural, political, social and economic achievements of women. Women have played a pivotal role within the Armed Forces. Military spouses (a majority of whom are women) are supporting the serving partner, not only by providing emotional support, but also practical and financial help, especially during times of deployment.
During the First and Second World Wars, women looked after the wounded or were called up for war work, in roles such as mechanics, engineers and drivers, whilst fighting the daily battle of running the household alone. In recent years women were integrated into the rest of the army.
Women who are currently serving, and female veterans say they feel neglected, especially when it comes to support of female related health issues. Support for serving and ex-forces women who are diagnosed with cancer and other long-term or life-threatening health conditions, can be particularly complex. In 2017 Forward Assist also identified that a much smaller proportion of female veterans access mental health support than their male counterparts.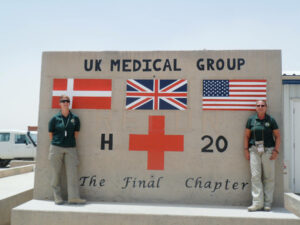 To increase the wellbeing of the Armed Forces community, DMWS welfare officers support all members of this community including currently serving, reservists, as well as spouses and in some cases carers, when they face physical or mental ill health. Many of our welfare officers are female who have either served in, or have links with the Forces. They have a good understanding of the military and are professionally trained in Mental Health First Aid.
DMWS recently supported a serving soldier who was diagnosed with breast cancer, she said: "The military is still very male-dominated, with only about 10% female soldiers. That's why the welfare support offered to personnel is also quite male-orientated. When I was diagnosed with breast cancer I felt scared, alone, and uncomfortable to discuss my condition with my chain of command or colleagues. The confidential support I received from DMWS has given me the strength to fight my personal battle."
Due to advancements in medical treatment many more people are surviving serious injury or illness. They need our support now and for years to come. We therefore believe that the necessity for our person-centred service is as great as it was 75 years ago.
Published:
8th March, 2018