Happy 50th Birthday Rick!!
Rick, an ex-Lancaster fusilier, has got a lot to celebrate this week… when DMWS Welfare Officer Isaac Smith met Rick for the first time, Rick was homeless and sleeping rough in a Manchester Park. His benefits had been suspended and he found himself with no money. Worse, he was suffering with anxiety, depression and alcohol issues.
Rick was referred to Isaac from Salford probation via the Ex Forces Action Network (E-Fan) for some extra support around his housing situation and his benefits. E-Fan is a new initiative set up to connect ex-forces personnel, who've had any contact with the Criminal Justice System, to a wide range of services in partnership with the Defence Medical Welfare Service.
An important way of how DMWS can help is their knowledge in welfare support available and the well-established connections to other support agencies. Isaac was able to arrange meetings with housing support and worked through the application process with Rick. To be entitled to housing, Rick needed to receive ESA (Employment Support Allowance). As Rick was homeless and had no phone it was difficult to reach him which hampered the claims process. Isaac used his connections and organised a pay as you go phone for Rich so that benefit agencies could contact him.
It was now the end of November and temperatures were plummeting. To ensure Rick stayed warm, Isaac took him to the local temporary cloth bank and got him a clean and warm coat. Rick also received a food parcel from St. Paul's church in Salford when he had no money.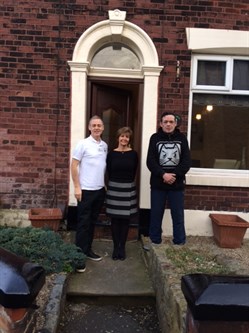 Today (11 December), on his 50th Birthday and with Christmas around the corner, we are so very pleased to announce that Rick has moved into a new flat, and is receiving benefits again, thanks to the hard work of DMWS Welfare Officer Isaac. Isaac said that cases like Rick are so rewarding, he continued: "When Rick was getting help to complete his housing paperwork and was shown pictures of available properties, Rick broke down in tears, overwhelmed by the prospect of getting off the streets." Rick said: "No one else has ever helped me like this before."
Isaac guided Rick through the process of getting his life back on track for the past few months and will continue to support him. More importantly, he took Rick for a warm drink when he was cold from being on the streets and listened to him when Rick needed it help most. Rick said: "I don't know where I'd be without the help from E-Fan – I'd either be in prison or dead as it was getting so cold sleeping outside."
We would also like to thank Nat West for helping clear Rick's bank charges and for Loaves and Fishes charity for supplying Rick with a food parcel and bedding when he moved into his new home. DMWS could not support people like Rick in the same way without the charity of other organisations and the donations we receive.
If you would like to support our course you can donate following this link: DONATE
Click here to find out more about E-Fan
Published:
10th December, 2016