The power of collaboration; veterans share their stories of receiving DMWS support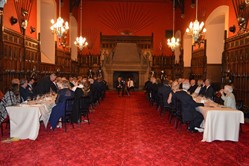 Edinburgh (September 25, 2018) – The Defence Medical Welfare Service (DMWS), a military charity, had the pleasure of welcoming service users, other beneficiaries and influencers to a unique "Caring for those who Serve" Dinner at the iconic Edinburgh Castle in Scotland.
To mark the Charity's 75th anniversary year, DMWS is hosting a series of events around the UK with the objective to increase awareness and understanding of the professional welfare service the organisation has been providing to the Armed Forces community since 1943. In the last few years DMWS has expanded their service to new beneficiaries in the Police Force, the probation service, the NHS and the veteran's community, to continue their mission of supporting those who put themselves in harm's way to protect the Nation.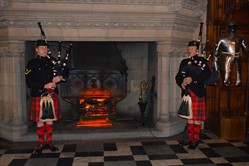 In Scotland, DMWS is a key member of the "Unforgotten Forces" consortium, led by Poppyscotland, to improve the lives of those who have served the country. This three-year project has been funded by the Aged Veterans Fund to ensure that older veterans and their families have access to the very best of welfare support, when faced with hospitalisation or when receiving medical treatment. Since the service delivery began in July 2017, DMWS has helped 2,637 beneficiaries and some of the veterans were invited to speak about their service experience at the event.
After a windy walk up Castlehill, with sounds of bagpipes and spectacular views of Scotland's capital city, the guests enjoyed some welcome drinks at Laich Hall before sitting down for dinner in the Great Hall. Amongst those attending were Members of the Scottish Government, key members of NHS Scotland and the health boards, local authorities, members of the Armed Forces community and representatives of the third sector as well as DMWS service users and welfare officers. The evening was an opportunity to hear first-hand accounts of how DMWS welfare officers have a positive impact on discharge planning, independent living, reduction in isolation and the overall wellbeing of the patient and families.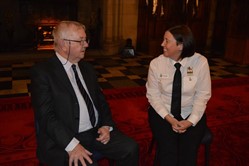 At the dinner the Governor of Edinburgh Castle, Major General M L Riddell-Webster, welcomed all guests followed by a three course meal with DMWS service users telling their stories in between each course. Amongst them was 79 year old Martin McArthur who spent 30 years in the RAF, who has been supported by Welfare Officer Emma Gration since his wife passed away. Emma helped him to find like-minded people in the community as isolation is a major problem amongst veterans, especially after bereavement. Martin said: "Emma has looked after me, taken care of me and pushed me along to keep me going."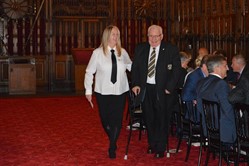 Mr William Agnew, from Kilmarnock in Ayrshire picked up a DMWS leaflet at Crosshouse Hospital and contacted Welfare Officer Sharon Murphy and asked if he would be able to get help with bathroom adaptations. He was in a lot of pain with leg injuries he sustained during his time in the Army. Previous attempts to have a bath put in were refused even though it could have helped his condition. DMWS liaised with Occupational Therapy and Housing to get the necessary house adaptations approved and carried out. The bathroom has already proven to improve his health and William said: "I would not have a bath if I hadn't picked up a leaflet that day in hospital.  I have asked in the past for a bath and been told no."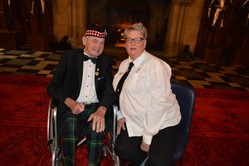 After desert veteran Mr James Bogan, aged 71 spoke about the great help DMWS Welfare Officer Jeannette Harley provided whilst he was in hospital recovering from a severe chest infection and a broken back. Thanks to Jeannette's support, funding was sourced for the purchase of specialised equipment, a purpose built ramp access for Jim's wheelchair and a patio area so Jim can sit outside on those rare Scottish sunny days.  Jim feels he has been given a new lease of life. "Jeannette is a true professional and has been so kind to myself and my wife Julie. We regard her as a true angel and now a great friend", he said.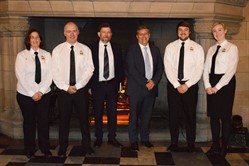 Bob Reid, Area Manager for Scotland, MOD and Overseas said: "The entire evening was a great success and we were delighted to have with us our partners from the NHS and local authorities from Grampian, Fife, Lanarkshire, Ayrshire and Arran. It was also a delight to meet so many constituency MSPs and in particular the newly appointed Veterans Minister Mr Graeme Dey. Sincere thanks to the Governor of Edinburgh Castle, Major General M L Riddell-Webster and the serving community without whom this event would not have been possible."
The experiences shared by veterans at the dinner demonstrate the power of collaboration. DMWS is very proud to be working with some fantastic organisations to reach a common goal: "Caring for those who Serve".
Published:
3rd October, 2018