DMWS Participate in the Muster during the Festival of Remembrance
Every year, for Remembrance weekend, The Royal British Legion hosts its Festival of Remembrance at the Royal Albert Hall, London to commemorate all those who have lost their lives in war and in conflicts. The first Festival was held in 1921 and is now in its 97th year.
Attended by the Queen and members of the Royal Family, the Festival serves as a poignant reminder of those who have lost their lives, or who have suffered life changing injuries in battle. It also celebrates those who have worked to support those currently serving in the Armed Forces, and the families who have suffered a loss.
As well as the Armed Forces, members of the country's civilian services, including DMWS; which has provided support for the Armed Forces during conflict and in peace time since 1943, are also invited to attend and take part in the Civilian Muster at the end of the Festival.
This year DMWS Professional Standards Manager, Elaine Crawforth; and Welfare Officer, John Walker represented the charity during the Muster. Both Elaine and John have served in the military 22 and 24 years respectively.
In attendance was also the Chair of DMWS, Maryanne Burton and fellow trustee, Air Commodore Barbara Cooper CBE.
Maryanne Burton, said: "I feel both privileged and excited to be at the Festival of Remembrance, honouring our heroes in the ways they deserve."
"Many have been wounded, injured, become sick or lost their lives in the service of our Country and we must never forget the sacrifices made."
Barbara Cooper, said: "As this year sees DMWS celebrating 75 years of caring for those who serve, it is both wonderful and wholly appropriate that we should be represented at this year's Festival of Remembrance, which of course commemorates 100 years since the end of the First World War. Having served for over 30 years in the Royal Air Force, I know the value of DMWS and I feel honoured to represent this worthy charity on such an auspicious occasion."
The Royal British Legion's annual Festival of Remembrance, presented by the BBC's Huw Edwards, took place at the Royal Albert Hall on Saturday 10 November 2018, the day before Remembrance Sunday. The Festival commemorates all those who have lost their lives in conflicts.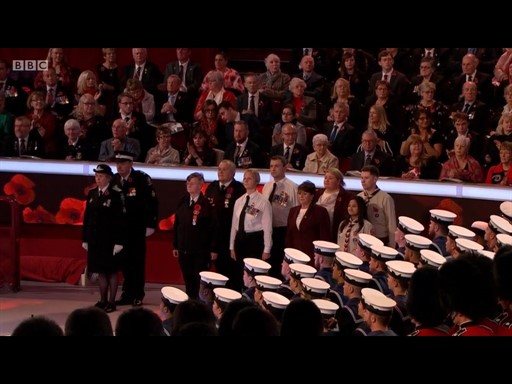 This year marks a number of significant anniversaries in the UK's military history, including the 75th anniversary of DMWS, 100 years since the formation of the RAF, 100 years of the Royal Army Veterinary Corps and most poignant the WW1 Centenary 1918-2018. The example and experience of those who lived through it shaped the world we live in today. At the Festival of Remembrance this year, The Royal British Legion is lead the nation in saying 'Thank You to all who served, sacrificed and changed our world'.
Published:
12th November, 2018