DMWS Staff Honoured for Outstanding Achievement
Three members of DMWS staff attended a prestigious ceremony in London yesterday to receive the Order of St John.
HM The Queen, as the Sovereign Head of the Order, honours individuals with admission to, or promotion within, the Order in recognition of their outstanding achievement, successful discharge of responsibility or notable and selfless service in furthering the objectives of the Order. It was therefore a huge honour for Trevor Edwards – Director of Operations, Amanda Marcroft – Service Delivery Manager and Jeanette Spriggs – former Welfare Officer, to receive the award.
The investiture was held in the beautiful Priory Church of St John, which stands on the site of the original round church built by the Knights of St John, and consecrated in 1185. Only the Crypt of the original church still survives, although the outline of the circular nave can still be seen on the pavement outside.
DMWS has a long and proud history with The Order of St John of Jerusalem (The Order) who, together with ther Red Cross, provided personnel to assist the medical officers in military hospitals worldwide, including on deployment in field units as far back as 1918.
During the 1940's The Order of St John and The Red Cross were tasked to provide welfare support in service hospitals and medical facilities all over the world. They later became known as the Service Hospital Welfare Department (SHWD) and adapted their role to complement and underpin the clinical work of their medical colleagues. Wherever the Military were, so welfare officers would be found, working within both established and field medical units. In 2001 the Service Hospitals Welfare Department became DMWS and our staff proudly display the emblem of The Order on their uniforms to this day, as they build on the work started by their colleagues in 1918.
We are extremely proud of all of our staff and are delighted when their service is recognised in this way. Our warmest congratulations and best wishes go to Trevor, Amanda and Jeanette.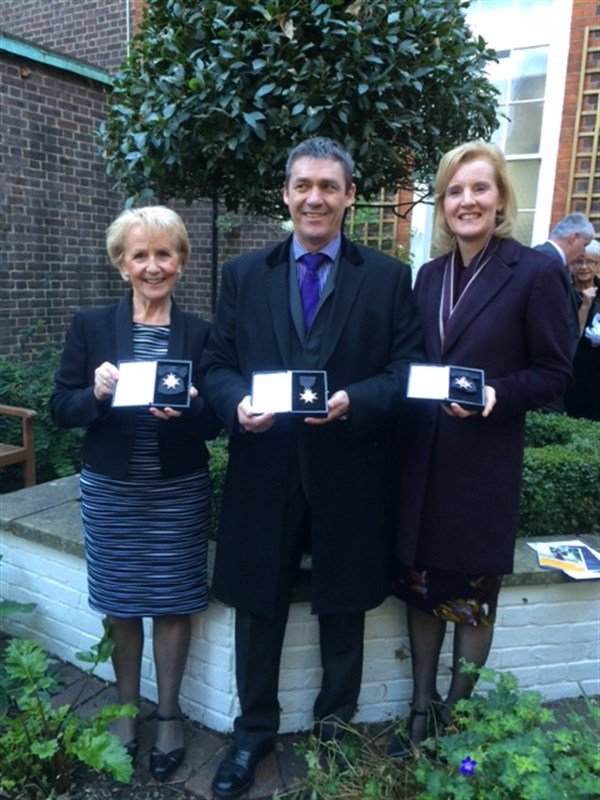 Published:
21st October, 2015