DMWS helps to reduce veteran's social isolation
In recent years the Defence Medical Welfare Service (DMWS) has extended their person-centred medical welfare service to military veterans, a population which is growing and increasingly in need of our care. Our Welfare Officer, Karen Daniels, provides practical and emotional support to veterans aged 65+, who are receiving medical treatment at the Central Manchester University Hospitals NHS Foundation Trust (CMFT).
A few weeks ago Karen met Mr Paddy Black, a 96 year old WW2 veteran at CMFT Manchester, where he attended as an outpatient 3x a week for blood transfusion. Paddy loves to sit and talk about his RAF career as a Leading Aircraftman. Karen offered him a listening ear which reduced his feeling of loneliness and isolation and improved his mental health.
He was a part of 487 Squadron RNZAF which was a Royal New Zealand Air Force light-bomber squadron, established in mid-1942, the squadron served in the European theatre, under the operational command of the Royal Air Force. The squadron took part in over 3,000 operational sorties before being disbanded at the end of the war in late 1945.
He went on to tell Karen about how he worked on The de Havilland Mosquito which was a British multi-role combat aircraft with a two-man crew. The Mosquito was in service during and after the Second World War. The aircraft was also known affectionately as the "Mossie" to its crews and is now recognised as an aviation icon.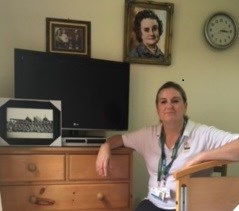 Knowing how much his RAF years meant to Paddy, Karen contacted members of the local breakfast clubs and a befriending service to enable Paddy to talk to like-minded people. The response was incredible; Paddy has been invited to Macclesfield Breakfast Club where another WW2 RAF veteran attends regularly, reconnecting Paddy to a community he feels understood and supported by.
Karen also received links of the aircraft in action but most significantly, a photograph of 487 Squadron RNZAF posed in front of a Wellington Bomber. When Paddy saw the photograph he believed that he could recognise himself in it. Karen went out of her way to get a enlarged version of the picture framed for him. When she handed it to Paddy, he was moved to tears and the picture sits proudly on display in his room now.
Paddy said: "It has been an absolute blessing that Karen from DMWS has come into my life. She has given me support at home and when I attend my 3x weekly hospital appointments. Karen offering her time makes me feel really valued. "
Published:
19th July, 2017