Mental Health First Aider Course

Poor mental health in the workplace costs UK businesses £billions every year. Mental Health First Aid training can help to reduce the cost. Training career partners, line managers and peer supporters can have a positive impact on sickness absence and staff engagement.
Mental Health First Aid Adult 2-Day (MHFA Adult) is an internationally recognised course which has been updated in October 2016.
MHFA won't teach you how to be a therapist, but you'll be able to say you're a Mental Health First Aider.
DMWS employ a number of MHFA instructors, who are approved by MHFA England. They deliver a 2-day Mental Health First Aid course for individuals or groups.

What will you learn?
Our MHFA Adult course is split up into 4 manageable chunks. These are:
What is mental health?
Suicide
Anxiety and depression
Psychosis
In each section you'll learn how to:
Spot the early signs of a mental health problem
Feel confident helping someone experiencing a mental health problem
Provide help on a first aid basis
Help prevent someone from hurting themselves or others
Help stop a mental illness from getting worse
Help someone recover faster
Guide someone towards the right support
Reduce the stigma of mental health problems
How will you learn?

The sessions will be a mix of presentation, group discussions and group work activities. Our instructors provide a very safe learning environment and are trained to support you throughout the whole course. If you don't feel comfortable joining in certain bits, then don't, we won't make you do something you aren't comfortable with.
Due to some of the sensitive subjects of our courses, including suicide, we limit numbers to 16 people. We want everyone to feel safe and our instructors can help if people find some parts particularly difficult.
You'll receive a MHFA Adult manual full of useful resources that you can take away with you at the end of the course and also an attendance certificate from MHFA England to say you are now a Adult Mental Health First Aider.
Who can attend the course?

The course is simply for everyone!
All that we ask is for you to be above the age of 16. This is due to some of the content being quite sensitive and can be upsetting to some. We want to ensure that we create a safe and suitable learning environment for all our attendees.
Student feedback:
"This was an excellent course which addressed all the things I need to know to apply Mental Health First Aid"
"The instructors were excellent and kept the interest going throughout"
"It has given me more confidence in saying the right thing and helping"
"Excellent course, incredibly informative"
"Very satisfied with my skills now. I would recommend the course to anyone"
"useful tools to put into practice in my everyday life"

Where, When and How do I book?
The cost of a place on an open access course is £269 (which is subsidised; MHFA England value the course at £300 per person) The course fee includes, tuition, certificate, manual, lunch and refreshments. Discounts are available for group bookings of between 8-16 students (from the same organisation) please contact us to discuss prices and options.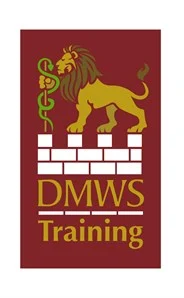 You can find the details of our next open access course and how to book using this link

For organisations, we can come to you and deliver the course at a competitive price. For more details, please contact us on 01264 774271 or email training@dmws.org.uk.
DMWS Training has delivered MHFA training to numerous organisations across corporate, healthcare, military, education, local government and third sectors.

If you would like to know more about Mental Health First Aid England, please visit their website: http://mhfaengland.org/
Unfortuantely, are no dates currently available for this course.
If you would like to enquire or express interest in future dates, please email training@dmws.org.uk