Attending Armed Forces Days around the country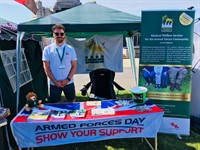 The Defence Medical Welfare Service has long established links with the Armed Forces, having provided a medical welfare service to this community during times of injury or illness, since 1943. We are proud to have attended several Armed Forces Days held around the country to celebrate the 10th anniversary of the event which recognises men and women from the Royal Navy, British Army and Royal Air Force, both Regulars and Reserves, alongside the wider defence family including cadets and veterans.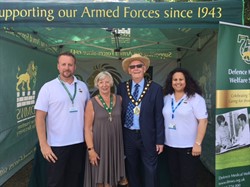 Paul Gaffney, CEO of DMWS said: "I am very proud of the DMWS Welfare Officers who have shown their appreciation for the work of our Armed Forces by attending local Armed Forces events in Frimley, Southampton, Andover, Plymouth, Trowbridge and Aberdeen. It was a great opportunity for us to inform the military community on the practical and emotional support we can offer if they are in hospital, a service we have provided to the Armed Forces and other frontline services for 75 years."
Speaking on the National Armed Forces Day, Defence Secretary Gavin Williamson said: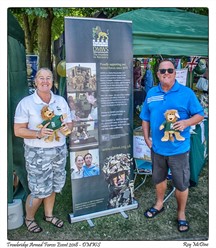 "Armed Forces Day is a valuable opportunity to honour our troops who work so hard to keep us safe. Our servicemen and women are on hand every hour of every day to protect us from the threats we face and I encourage people across the UK to come together and salute them for their tireless commitment."
The UK Armed Forces defend the country and its interests. Every day of the year they are busy working around the world, promoting peace, delivering aid, tackling drug smugglers and providing security and fighting terrorism. We believe that those who serve our country deserve our help when they need it most.
Published:
16th July, 2018