Armed Forces Covenant Trust Fund awards DMWS funding to benefit communities in Somerset & Herefordshire
The Armed Forces Covenant Fund Trust (AFCFT) have awarded further funding to the Defence Medical Welfare Service (DMWS) to continue the provision of services for the military communities of Somerset & Herefordshire.
DMWS Welfare Officers, Justine Clayton and Lee Bayley have delivered the Removing Barriers to Family Life project for the past two years and thanks to further funding from the AFCFT, DMWS will be able to continue offering welfare services to the military community of Somerset & Herefordshire through the new Sustaining Communities project.


Both Justine and Lee have a wealth of knowledge and deliver life-changing welfare support to serving personnel, veterans and their family members in Somerset and Herefordshire. Many of these cases are extremely complex, dealing with suicide, PTSD, substance abuse, domestic abuse, and more.
We are delighted to have been provided further funding from the Armed Forces Covenant Fund Trust, their continued support will allow us to continue to deliver vital welfare services to the military communities of both Somerset and Herefordshire.

Paul Gaffney, DMWS CEO
Uniquely, the team also provide welfare support to the partners and children who are affected. These support networks are crucial in sustaining wellbeing but many experience compassion fatigue/secondary traumatic stress as a result. As Justine points out, "many charities miss out on supporting the partner who has often been dealing with their partner's poor mental health alone for years, and by the time you ask, 'how are you?' they crumble. To open that door is massive and looking after those that care is crucial." Lee adds that she "takes pride in looking at families as a holistic unit – if nan's involved, I'll help her too."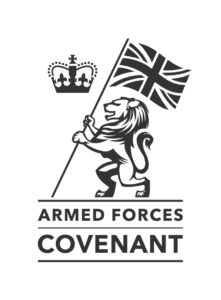 Both Lee and Justine come from military backgrounds, Lee served in the Royal Corps of Signals and Justine is married to a veteran and both are familiar to the ongoing physical and emotional impacts of serving on individuals and their families.

In Herefordshire, services for military families facing mental health issues are limited and the rurality is a challenge for accessing support. Herefordshire CCG cites 40% higher mental health referrals. Meanwhile, Taunton has one of the highest veteran populations in the UK, with an estimated 50,000 veterans and dependents.
Our team draw upon their knowledge and personal experiences to ensure support is holistic and unbroken, working with statutory and non-statutory organisations, local authorities, and the NHS. Justine has even trained psychiatric teams in the hospital to be better attuned to the needs of veterans and their loved ones, whilst Lee has recently been chosen to represent Veterans on the six-month Working Better Together programme for early intervention and prevention for children's mental health.
Both Justine and Lee are excited to continue to deliver the unique support that DMWS provides, and we thank The Armed Forces Covenant Fund Trust for their continued support in our efforts.
Grant Period: March 2022 – March 2023
---
Defence Medical Welfare Service Details:
The St John and Red Cross Defence Medical Welfare Service (known as DMWS) is a registered charity in England and Wales (1087210) and in Scotland (SC045460)
Registered Office: The Old Stables, Redenham Park, Andover, SP11 9AQ
Phone: 01264 774 000 | Email: info@dmws.org.uk
Keep up to date with DMWS news and announcements via Social Media
Facebook @DefenceMedicalWelfareService
---
For more information on The Armed Forces Covenant Fund Trust visit https://covenantfund.org.uk/
Published:
26th May, 2022