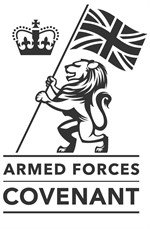 The Armed Forces Covenant sets out the moral obligation of society towards members of the Armed Forces community. It enables businesses and charitable organisations to express their support, and commit to ways in which they can provide that support.
In January 2014, our charity, the Defence Medical Welfare Service (DMWS) signed up to the Armed Forces Corporate Covenant to formally pledge our support to those who serve.
The MoD introduced the Employer Recognition Scheme to award those organisations who provide exceptional support to the Armed Forces community and the defence.
DMWS was one of only 50 organisations to be recognised for its outstanding support of its Armed Forces staff, by receiving the prestigious Employer Recognition Scheme (ERS) Gold Award 2018, from the Ministry of Defence.