Aged Veterans Project is picking up momentum
The Aged Veterans Project has recently been introduced in Herefordshire and Nottinghamshire. It is aimed at veterans aged 65 and over, their family members, dependents or carers to provide professional support that is tailored to their individual needs. The ex-Service community in the two councils has already greatly benefitted from the additional service available.
The project has been funded by the Aged Veterans fund and aims to improve the health and wellbeing of aged veterans, develop skills, reduce social isolation and enable independent living. The service is delivered by a consortium of organisations including Herefordshire Council, Nottinghamshire County Council, Alzheimer's Society, Herefordshire Veterans Support Group, The Cart Shed and the leader of the project the Defence Medical Welfare Service (DMWS). Since the projects started in April 2017, the organisations have held meetings and built links in the communities with a number of organisations including health care providers, military charities other support agencies to outline the benefits to them and the Aged Veteran population. This has improved processes in place to identify and help veterans and already led to a number of referrals.
According to Julia Sprot, Community Broker for Veterans at Herefordshire Council, the project enables activities and training within the local community to enhance and improve the offer to aged veterans. She said: "My role is to bridge a gap between the service user and service provider. With the vast network of Military support organisations out there, finding the right one can be challenging. A key part of my job is to know what services are available and then help people to be connected with the appropriate agency to ensure they get the help they need."
Her cases so far helped to reduce social isolation by connecting veterans with visiting services provided by SSAFA and RBL, to receive local funding to attend The Cart Shed and support veterans to learn new skills. By connecting with the right agencies, Julia also managed to ensure an ex-military couple received the financial support they were entitled to in order to assist with the cost of the husband's dementia care before the family hit crisis point, thereby reducing anxiety and stress.
The veteran's wife said: "When I called our local social worker, I did not expect any veteran specific support. Receiving help under the Aged Veterans Project has been a huge relief for us."
The project leader DMWS has Welfare Officers embedded within NHS Trusts and the NHS 2gether Mental Health to provide support to the aged veteran community when they need help during times of physical or mental ill health. Welfare Officers Nathan Cumberland, Tanner Gibbins-Klein, Mark Lucas and Bethany Parham work closely with hospital staff and outreach workers to ensure veterans who would benefit from the support of a Welfare Officer, are identified and referred to DMWS.
DMWS provides practical and emotional support to patients and their families when their medical needs are being met but when other issues or concerns, such as debt, housing, family breakdown or substance misuse, may affect the patient's recovery. The aim is to improve mental wellbeing, encourage a positive approach to treatment, and promote independence. It is important to point out that the service also provides wider advantages to the NHS such as reducing patient's hospital length-of-stay, or freeing up clinical staff to concentrate on their core duties.
Mark Lucas said; "It is great to work with a group of organisations who are so passionate about the project. We already received a number of referrals from other organisations and through our frequent ward rounds. Being able to spend time with veterans is extremely rewarding."
One such case was the welfare given to an elderly ex-Squadron Leader and sole carer of his wife who suffers from alzheimers. Given the severity of her condition the couple were house-bound and really appreciated visits from the Welfare Officer which helped to reduce feelings of isolation and loneliness, alleviating some care responsibility and boosting his self-esteem. Mark also signposted the veteran to other organisations who could help with additional care for the wife and provide companionship for him.
Veteran: "I looked forward to my visits from DMWS. I can't express my gratitude and thank them enough. They have given me the strength to reach out to other people."
As part of the Project the Alzheimer's Society delivers formal dementia training courses aimed at those working with aged veterans, aged veterans caring for someone with alzheimers or someone caring for an aged veteran with alzheimers. Bernadette Foley, Training and Consultancy Relationship Manager for Alzheimer's Society said: "We are delighted to be running this training in Herefordshire and it is a fantastic opportunity for veterans and families with links to the military to learn more about dementia. Parts of the course will look at understanding the unique ways that dementia affects people and how it can impact on everyday life, including how to apply evidence based practical tools for building positive and inclusive relationships with people with dementia."
Stephanie Staton. Administration Officer for Carers Trust East Midlands attended one of the dementia training attendees commented on the course: "An excellent course! The trainer certainly knew her stuff. I feel better informed about dementia and its effects."
DMWS Training, DMWS's own training branch, provides Mental Health First Aid Training and Armed Forces Awareness training in Herefordshire and Nottinghamshire, open to those from statutory and voluntary organisations working with aged veterans.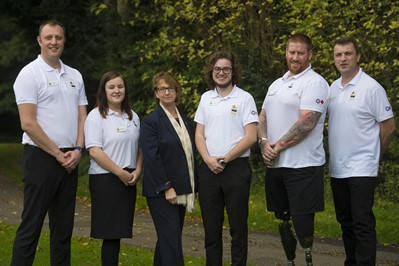 One of the Project Partners in Herefordshire, The Cart Shed offers veterans, who love the outdoors and are looking for friendships, a sense of belonging whilst learning new skills. Herefordshire Veterans Support Group offers projects aimed at aged veterans to encourage intergenerational activities that will help to reduce social isolation of the older community.
The Aged Veterans Project has gained significant traction over the course of the past few months. All partners are committed to making the project a success to ensure older veterans, their families, dependants and carers maintain their independence, improve their wellbeing and stay connected within their local community.
Published:
19th December, 2017