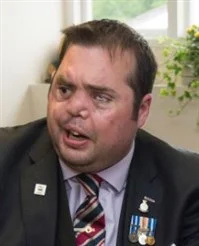 Simon Brown joined the Army in 1997 and after completing his training with the Royal Electrical and Mechanical Engineers (REME) was posted to Germany. In 1999 he deployed on the first of his three operational tours.
During his last operational tour in Iraq in 2006 he was shot in the face by a sniper. Flown back to the UK for treatment he spent 17 days in a coma.
During this time he was visited by a member of DMWS who spoke to him every day. Simon heard every word, despite being unconscious. Despite his left eye being destroyed and enduring 24 operations, he has now managed to cope with the changes and has used his own experiences to help motivate and inspire others. Some of his achievements include speaking at the GQ man of the year awards, speaking to the England rugby team before the 2012 six nations and carrying the Olympic torch.
Simon has worked full time with Blind Veterans UK for the last 4 years, and continues to embrace life with positivity.