General Sir Gordon Messenger KCB DSO and Bar OBE ADC – Constable of the Tower of London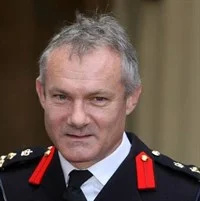 Gordon Messenger was commissioned on 15 September 1983 and is a qualified Mountain Leader. In 1995 he graduated from the Canadian Forces Command and Staff Course No 21.
General Messenger served with British Forces in the former Yugoslavia in 2000 (Kosovo), for which he was appointed Officer of the Order of the British Empire (OBE). He was promoted substantive colonel on 30 June 2002. For his leadership of 40 Commando (and attached army units) in Iraq, including the initial assault on Al Faw peninsular, and an action against Iraqi armour at Abu Al Khasib, he was awarded the Distinguished Service Order (DSO) on 31 October 2003. After a sabbatical in Geneva, he joined the Joint Force Headquarters as Chief of Staff in July 2004, a job that saw him on various operations worldwide, including Operation Garron, the 2004 tsunami relief effort, Operation Highbrow, the Lebanon evacuation operation, and a six month tour in command of the Operation Herrick preliminary operation in Afghanistan. He has seen DMWS welfare officers perform in the Role 3 Hospital at first hand.
He graduated from the UK Higher Command and Staff Course in 2007 and was promoted to Brigadier on 24 April 2007. He served as the British Commander of Task Force Helmand, during the 3 Commando Brigade deployment to Helmand province, Afghanistan on Operation Herrick IX in 2008–2009. For his leadership during this operation he was awarded a Bar to his DSO on 11 September 2009, the first member of the Naval Service to receive the DSO and Bar for over 50 years.
He was promoted Major General in 2009, and appointed lead spokesman on British operations in Afghanistan. He went on to be Chief of Staff (Operations) at Permanent Joint Headquarters, Northwood followed by an appointment on promotion to Lieutenant General in Jan 13 to be the Deputy Commander LAND in Izmir, Turkey. In June 2014 he became Deputy Chief of Defence Staff (Military Strategy & Operations) in the MOD and was appointed Vice Chief of Defence Staff in 2016 and promoted to General. He is married to Sarah and has 3 grown up children.