DMWS Training Manager wins MHFA Award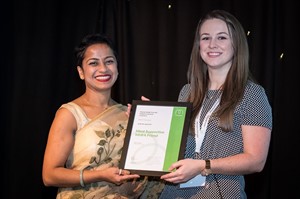 On Wednesday (November 15, 2017) DMWS Training Manager, Mark Perryman, received the Mental Health First Aid (MHFA) Award as 'Most Supportive MHFA Friend'. We congratulate Mark on this well-deserved achievement. Over the past four years, Mark has passionately delivered 50 Mental Health First Aid (MHFA) courses and single-handedly trained over 700 people; which in turn will help thousands of others. Unfortunately he was unable to attend the event to collect his award, as he was delivering an MHFA course – which highlights his commitment to MHFA. Danielle Cowap, DMWS Training Manager collected the award on his behalf.
His nomination acknowledges his work with teachers, nurses, youth workers, jockeys, LGBT leaders and the emergency services. In his role with the Defence Medical Welfare Service (DMWS), he has expanded the training team in his efforts to make DMWS the most prolific independent deliverer of MHFA in England. Building confidence in others and inner strength, Mark is a true MHFA Ambassador in every sense. His belief is such, that he has trained every single member of our staff in MHFA (Adult). His innovative approach to supporting other charities and training volunteers and key workers in MHFA, has led to grants being awarded, to fund the continuation of this exceptional work.
"Fantastic teaching and amazing content. I have learned more about behaviour over the last 2 days than I have in my other 43 years."
Quote from course participant
His personal knowledge gained from military service deployment, and his own voluntary work as a Community First Responder with the South Central Ambulance, provides him with true life insight and personal experience of mental health disorders and the needs of others. This is why Mark qualified as an instructor in all three areas; MHFA Youth, MHFA Armed Forces and MHFA Adult.
Mark Perryman reflects on the journey that led him to become an MHFA instructor:
The 2017 award ceremony was part of the 10th anniversary celebrations of Mental Health First Aid being launched across England. To date, over 201,000 people have been trained in Mental Health First Aid by the MHFA network of National Trainers, instructors and associates.
About DMWS Training:
DMWS Training offers a range of courses around welfare, wellbeing and resilience, including the full portfolio of MHFA courses. We run regular open access MHFA courses at our head office in the countryside near Andover, in Hampshire. We also deliver training at clients' own premises. Our clients range across the corporate, education, defence, healthcare and third sectors.
Our other courses include a Level 3 Diploma in Welfare Studies (accredited by the Institute of Welfare); Resilience for individuals and managers; Applied Suicide Intervention Skills Training (ASIST), and bespoke courses such as Armed Forces Awareness for NHS and Local Authority staff.
Courses can be booked:
Online: on our website
Call: 01264 774008
Or Email: training@dmws.org.uk
Published:
16th November, 2017