Baroness Audrey Emerton DBE DL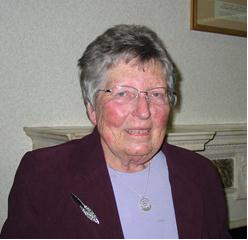 Baroness Audrey Emerton is a distinguished member of the nursing profession with numerous prestigious remits at national level including chairing UKCC.
She has had a long association with Order of St John, initially joining as a cadet in 1946 and progressing continually, holding the post of Chief Commander of St John Ambulance for several years until her retirement in 2002. Audrey is a former member of the Joint Committee of the Order of St John and the British Red Cross.
Since becoming a life peer in 1997 she has contributed regularly as a cross bench member in the House of Lords on a variety of issues relating to the nursing profession, health care and the voluntary sector.
The Lord Smith of Kelvin KT CH
Lord Smith is one of Scotland's leading business figures. He holds the chairmanship of both SSE and the UK Green Investment Bank and was chair of the organising committee for the hugely successful Glasgow 2014 Commonwealth Games.
Robert Smith was educated at Allan Glen's School before qualifying as a Chartered Accountant in 1968. He went on to work for the Industrial and Commercial Finance Corporation – now the 3i Group – before holding senior posts with National Commercial and Glyns Ltd, the Royal Bank of Scotland and Charterhouse Bank. He was also chair of the Weir Group.
He joined Morgan Grenfell in 1989 as CEO and Chairman and spent 12 years with the company. During this period, he also served as Chairman of National Museums of Scotland, President of the Institute of Chartered Accountants of Scotland and a Governor of the BBC. In 1999, he was knighted for services to Scotland's museums.
He became a member of the House of Lords in 2008, as an Independent Crossbench Peer. He is also President of the Royal Highland and Agricultural Society of Scotland, a Regent of the Royal College of Surgeons and Patron of Foundation Scotland – formerly the Scottish Community Foundation.
Lord Smith was appointed Chancellor of Paisley University – now University of the West of Scotland – in 2003, a position he held until September 2013. He holds honorary degrees from the Universities of Edinburgh, Glasgow and West of Scotland. He is married to Alison, Lady Smith, and has two daughters.
General Sir Gordon Messenger KCB DSO and Bar OBE ADC – Vice Chief of Defence Staff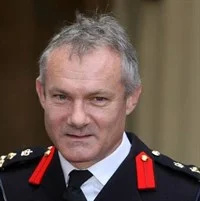 Gordon Messenger was commissioned on 15 September 1983 and is a qualified Mountain Leader. In 1995 he graduated from the Canadian Forces Command and Staff Course No 21.
General Messenger served with British Forces in the former Yugoslavia in 2000 (Kosovo), for which he was appointed Officer of the Order of the British Empire (OBE). He was promoted substantive colonel on 30 June 2002. For his leadership of 40 Commando (and attached army units) in Iraq, including the initial assault on Al Faw peninsular, and an action against Iraqi armour at Abu Al Khasib, he was awarded the Distinguished Service Order (DSO) on 31 October 2003. After a sabbatical in Geneva, he joined the Joint Force Headquarters as Chief of Staff in July 2004, a job that saw him on various operations worldwide, including Operation Garron, the 2004 tsunami relief effort, Operation Highbrow, the Lebanon evacuation operation, and a six month tour in command of the Operation Herrick preliminary operation in Afghanistan. He has seen DMWS welfare officers perform in the Role 3 Hospital at first hand.
He graduated from the UK Higher Command and Staff Course in 2007 and was promoted to Brigadier on 24 April 2007. He served as the British Commander of Task Force Helmand, during the 3 Commando Brigade deployment to Helmand province, Afghanistan on Operation Herrick IX in 2008–2009. For his leadership during this operation he was awarded a Bar to his DSO on 11 September 2009, the first member of the Naval Service to receive the DSO and Bar for over 50 years.
He was promoted Major General in 2009, and appointed lead spokesman on British operations in Afghanistan. He went on to be Chief of Staff (Operations) at Permanent Joint Headquarters, Northwood followed by an appointment on promotion to Lieutenant General in Jan 13 to be the Deputy Commander LAND in Izmir, Turkey. In June 2014 he became Deputy Chief of Defence Staff (Military Strategy & Operations) in the MOD and was appointed Vice Chief of Defence Staff in 2016 and promoted to General. He is married to Sarah and has 3 grown up children.
Lieutenant General (Retired) Sir Alistair Irwin KCB CBE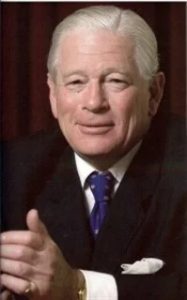 Lieutenant General Sir Alistair Irwin KCB CBE was commissioned into The Black Watch in 1970 after graduating from St Andrews University. He commanded 1st Battalion The Black Watch in Northern Ireland, Edinburgh and West Berlin. His last four appointments in the Army were Commandant of the Royal Military College of Science, Military Secretary, General Officer Commanding Northern Ireland and then finally Adjutant General, retiring from the Army in 2005. Since then he was closely involved with the Commonwealth War Graves Commission, of which he vice-chairman 2011 – 2013. He has also been closely associated with a wide range of activities connected with veterans affairs in Scotland.
General Sir Alistair is currently the President of the Royal British Legion Scotland (referred to as 'Legion Scotland'). Poppy Scotland and the Officers Association Scotland. He is also a member of the Scottish Government's Great War Commemoration Advisory Panel.
Lieutenant General (Retired) Sir Mark Mans KCB CBE DL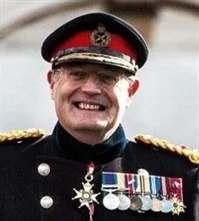 Lieutenant General Sir Mark Mans was commissioned into the Corps of Royal Engineers and in a military career lasting almost 40 years saw regimental and operational service worldwide. He held a variety of high level appointments and prior to retirement in 2012 served on the Army Board as the Adjutant General.
Sir Mark is now pursuing a portfolio career as a non-executive and independent consultant and currently holds non-executive positions in various companies. He is also a Deputy Lieutenant of Hampshire, a Trustee with the Nuffield Trust, and a Patron of The Royal British Legion Hampshire, Champion of the Defence Medical Welfare Service, the Ulysses Trust and the Veterans in Action charities.
His interests focus in the main on sport, sadly increasingly as a spectator rather than a player, but he still plays cricket and he is an Honorary Vice President of the Army Rugby Union.
Professor Sir Cary Cooper CBE
Professor Sir Cary Cooper, CBE FAcSS is an American-born British psychologist and 50th Anniversary Professor of Organizational Psychology and Health at Manchester Business School, University of Manchester. Before moving to Manchester he was Distinguished Professor at Lancaster University. Cooper was Head of the Manchester School of Management (within UMIST) from the early 80s.
In 1995 he became Pro-Vice-Chancellor and then Deputy Vice-Chancellor of UMIST until 2002. From 1979 to 1980 he was chairman of the Management Education and Development Division of the Academy of Management and was elected as Founding President of the British Academy of Management. In June 2005 he was appointed head of the Sunningdale Institute, which, managed by the United Kingdom National School of Government, brings international academics and industry figures together to advise on issues facing UK public sector Organisations.
He is Chair of the Academy of Social Sciences, a body representing over 88,000 social scientists and 46 learned societies in the social sciences (e.g. Royal Geographical Society, British Psychological Society, Political Studies Association, Royal Statistical Society, etc.). He is also President of Relate, Clinical Advisor to Anxiety UK, President of the Institute of Welfare and immediate past President of the British Association for Counselling and Psychotherapy. Cooper is also a director of well-being specialists and business psychologists at Robertson Cooper Limited, a university spin off company which he set up in 1999 with Ivan Robertson. He was the founding editor-in-chief of the Journal of Organizational Behaviour. Cooper's parents were Jews from Romania and Ukraine. He became a British citizen in 1993.
Major General R T I Munro CBE TD (LATE PARA)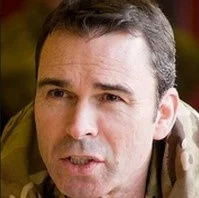 Major General Ranald Munro joined the 10th Battalion The Parachute Regiment in December 1986 and, having served for a year as a private soldier, was commissioned into the Battalion from RMA Sandhurst in 1988. He received his Territorial Decoration in 1999, Bar in 2005 and awarded his VRSM in 2010.
Ranald is a Trustee of the Airborne Forces Security Fund, Member of the Parachute Regiment Council, Hon Col 4 PARA and Vice President (ex‑Chairman) of The Caledonian Club in Belgravia, London.
Ranald is a barrister in civilian life and is the General Counsel and company secretary for as well as the most senior serving Reservist in the British Army and is currently serving as the Assistant Chief of Defence Staff (Reserves).
Major General (Retired) John Stokoe CB CBE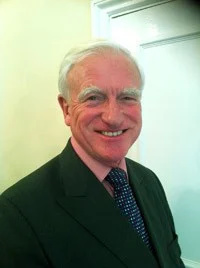 A former Major General in the British Army, John retired in 1999 as Commander UK Land Forces. Since then he has followed a Board-level business career in the construction, infrastructure and IT sectors; this included four years as the Head of Corporate Affairs, Marketing and Communications for the Lend Lease European construction business, and three years as the MD of British Telecom's National Government division.
In his principal role as head of Strategic Development within Dassault Systemes EuroNorth, John is responsible for shaping the commercial landscape of the future to provide a foundation for business development. In doing so, he leads the company's strategic approach to its business operations, creating a culture enabling people to think, plan and act within the long term strategy of the company, driving growth and expanding market penetration and diversification.
Dr Rosemary Kennedy CBE OstJ TD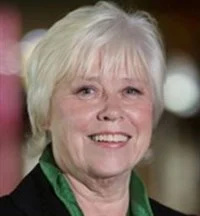 Rosemary trained at St.George's Hospital London on the 2+1 Experimental Scheme gaining the Gold Medal. She has held several senior posts in the NHS including General Manager and Director of Nursing.
Rosemary was appointed Chief Nursing Officer for Wales in 1999 and was responsible for the publication of several key nursing strategies for Wales including Free to Lead: Free to Care.
In addition, Rosemary gained a commission in the Queen Alexandra's Royal Army Nursing Corps (Territorial Army) in 1984 and held all top level unit posts culminating in the appointment of Commanding Officer of a TA Field Hospital. In 2008 she was appointed by Her Majesty the Queen as Colonel Commandant of QARANC, the first time that this appointment has been held by a TA Officer.
Rosemary also received the CBE and was awarded an Honorary Doctorate from the University of Glamorgan in 2009. After stepping down as the CNO in September 2010, Rosemary was appointed Chairman of Velindre Trust in January 2011. Rosemary served as a Trustee and Deputy Chair of DMWS from 2012 to 2014. Rosemary joined us as a DMWS Champion in June 2016.
Dr Gordon Paterson OBE

Dr Paterson is a specialist in Public Health with over 35 years' experience in the NHS. Gordon has served as an advisor on cancer and screening programmes to the four UK Health Departments for which he was appointed an Officer of the Order of the British Empire.
Gordon's involvement with DMWS started in 2001 when he became a Trustee. In 2005 he was elected as Chairman, stepping down in October 2013.
Gordon has been involved with the Red Cross for 30 years and for three of those was appointed as Chief Medical Advisor to British Red Cross. He has had extensive involvement in contingency planning at national level, including joint work with military colleagues on transition to Reception Arrangement Military Patients (RAMP) in the run up to Op TELIC operations in the Gulf. He is currently Vice Chairman of the Joint Committee of the Order of St John and the British Red Cross.
As well as being a Champion of DMWS he is currently Chairman of The Physiotherapy Trust and Director of PATCH (Palliation and the Caring Hospital).
Christine Atkinson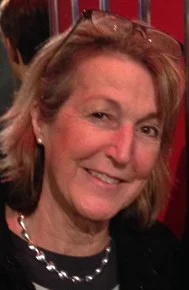 Christine was born and brought up in Durham, attended Wolsingham Grammar School in Weardale and moved to Hampshire in 1987.
Christine was a Relate Counsellor for 17 years, completing her training in Chichester and then practicing in Portsmouth. She joined St John Ambulance in 1999 as President of Havant Division, a role which she fulfilled for 10 years after which she took the role of County Vice President, becoming County President in 2014. Christine has been a member of the St John County Fundraising Committee, which she now chairs, since 2003 as well as fundraising for Havant whilst President there. She was appointed Member of the Order of St John in 2006 and promoted to Officer in 2012.
She lives near Petersfield, is married to Nigel and has three children.
Simon Brown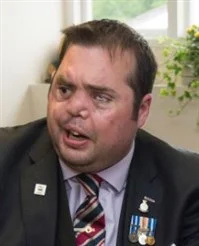 Simon Brown joined the Army in 1997 and after completing his training with the Royal Electrical and Mechanical Engineers (REME) was posted to Germany. In 1999 he deployed on the first of his three operational tours.
During his last operational tour in Iraq in 2006 he was shot in the face by a sniper. Flown back to the UK for treatment he spent 17 days in a coma.
During this time he was visited by a member of DMWS who spoke to him every day. Simon heard every word, despite being unconscious. Despite his left eye being destroyed and enduring 24 operations, he has now managed to cope with the changes and has used his own experiences to help motivate and inspire others. Some of his achievements include speaking at the GQ man of the year awards, speaking to the England rugby team before the 2012 six nations and carrying the Olympic torch.
Simon has worked full time with Blind Veterans UK for the last 4 years, and continues to embrace life with positivity.
Nigel Jackson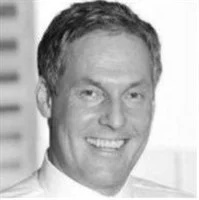 Nigel is the founding director of Leading Coach Limited, a boutique consulting organisation focusing on Leadership Development and Executive Coaching. Until 2012, Nigel was a career banking professional, having worked at executive and board level for a number of leading financial services organisation's during a period spanning three decades. Throughout his career, Nigel has developed a highly-respected reputation as a trusted coach, as well as an authentic leader who inspires strong followership.
Nigel began his career with Lloyds Banking Group where he enjoyed a seventeen-year career working within the retail and life assurance businesses in a number of customer-facing and head office leadership roles. His career at Lloyds culminated in an attachment to Scottish Widows where he led the front office integration of the Lloyds and TSB networks' life and pensions businesses. Nigel subsequently joined Aviva to lead the transformation of its newly-formed JV business with the RBS Group. This programme resulted in a totally new, customer-centric operating model, providing financial advice to both private and corporate customers. From Aviva, Nigel joined forces directly with RBS where, more latterly, he was appointed as Managing Director of the UK Private Banking business for RBS and NatWest. During his time in this role, Nigel instigated and led a complete cultural transformation centred on the rebuilding of trust. This initiative resulted in the business's most successful period to date.
Nigel is an Ambassador of the British Forces Foundation Charity and lives in Yorkshire with his wife Sue.
Kevin Mackie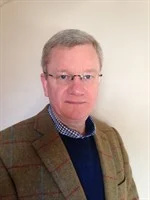 Kevin trained as a registered General Nurse in Norwich before specialising in renal nursing at City Hospital Nottingham. Rising to the position of Charge Nurse in the NHS.
He was commissioned into the RAF in the rank of Flying Officer on 14 Jan 1990. Returning to education in 2005, he became the Nurse Education Adviser for the RAF before promotion to Wing Cdr in Jan 2008 and a move to the position of SO1 Coord within COS Health's directorate at Air Command. During this time, Kevin completed a very successful tour in Kandahar as Medical Adviser to the Commander of Kandahar Airfield earning him a team award for the 2009 Military/Civilian Health Partnership awards in the Health Improvement/Promotion category.
He was posted into MDHU Peterborough in 2009 as Officer Commanding Nursing and took over as Commanding Officer in 2010. Having left the RAF after 23 years he is now a consultant in Medical Education and Lead Educator for the Resuscitation Council (UK).
Kevin is married with 2 daughters. In his limited spare time he enjoys fly fishing, golf, squash and motorcycling.
Sally Scott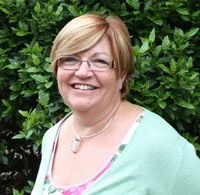 Sally Scott comes from a background in education in both the secondary and primary sector and also across independent and state schooling. She has held two Headships during which time her leadership was described as "inspirational" by OFSTED. As well as work in schools she has also acted as a County Maths Advisor which involved her training teachers and schools how to teach maths.
Before that she was a commissioned officer in the WRAC and an army wife. She is a linguist with fluent French and German and passable Spanish. Now retired, she spends her time working with the elderly and homeless in Winchester and in her spare time she is a textiles artist who exhibits locally and nationally. Prior to becoming a Champion, Sally was Trustee and Deputy Chair of DMWS for over 3 years. She is married to Chris and lives in Winchester.